CO2 reduction by bleaching at low temperatures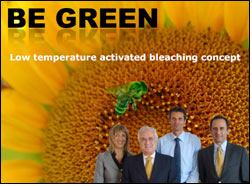 G. TOSI S.p.a., one of Italy's biggest finishers of 100% cotton yarn (mercerised loose hank / x-cones) and knitted fabrics, jointly developed, with Dutch based company TANATEX Chemicals B.V., a new low temperature bleaching process. In the classical process for mercerised yarn, a lot of water, energy and chemicals are being used in order to achieve the high quality level for which G. TOSI is known for.

Due to environmental legislation G. TOSI has decided to optimise its production process, focussing strongly on the reduction of water, energy, and effluent pollution and CO2 emission, ofcourse without impairing the quality.

Especially the production of mercerised yarn is very complicated. Reducing the temperature of the bleaching would immediately reduce the consumption of Methane gas and therefore the emission of CO2. During this coorperation a newly developed concept has been installed which ensured bleaching at only 75°C. The strong innovative characters of both companies resulted immediately in a process suitable for both white for dyeing as well as for full white bleaching, including OBA's.

The new BE GREEN concept is based on a low temperature peroxide activator controlling the decomposition of peroxide and rapidly developing the required whiteness. This system is based on specially selected dispersants, surfactants and a bleaching activator. The ready-to-use products were developed during intensive testing in the production of G. TOSI. Process cycles for the mercerised yarn could be simplified by reducing the total time, consumption of water and gas (CO2 emission) up to 50%.

Additionally a reduction of 25% in COD levels in the effluent has been measured. On September 28th 2010, Ing. Orsenigo, Vice President G. TOSI, New Tanatex S.p.a (Italian agent of TANATEX Chemicals) and TANATEX Chemicals B.V. subscribed their cooperation trying to explore more benefits. Jointly the companies will search for more possibilities to become the GREENest companies in each of their markets.

TANATEX Chemicals is an international organization which develops, produces and sells chemicals for the textile industry. The company offers chemicals used in pre-treatment, dyeing, printing, coating and finishing.

TANATEX Chemicals B.V.