CIAMI cum 7th Fiberglass Composite Expo kick off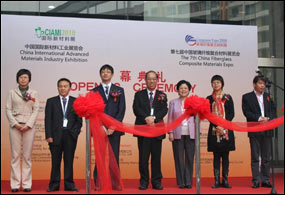 China to nurture and develop seven new strategic industries with favorable policies in the 12th Five-Year Program has listed new materials industry as a key development area, including promoting the development of rare earth functional materials, high performance film materials, special glass, ceramics, semiconductor lighting materials and other new functional materials; actively developing high quality special steel, new alloy materials, engineering plastics and other advanced structural materials; enhancing the development of high-performance and composite materials, such as carbon fiber, aramid fiber and ultra-high molecular weight polyethylene fiber, and conducting research on common basic materials, such as nano materials, superconductive materials, intelligent materials, demonstrating a bright prospect of the advanced materials industry.

Riding on the speedy development of the industry, China International Advanced Materials Industry Exhibition 2010 cum the 7th China Fiberglass Composite Materials Expo (also known as "CIAMI 2010 cum the 7th Fiberglass Composite Expo) were held at Shanghai Everbright Convention and Exhibition Center, Shanghai, PR China today (November 8).

Around 120 local and overseas exhibitors from 9 countries / regions, namely Australia, France, Germany, Korea, Japan, the United Kingdom, the USA, China and Hong Kong SAR, join hands to create the first platform of advanced materials for different sectors in China. The three-day show (November 8-10) will display a full range of new materials, explore more applications in downstream areas, speed up the product upgrading, and promote the development in other industries.

A wide range of advanced materials together with its manufacturing and processing equipment are on display, covering plastics (engineering plastics, special plastics, modified plastics, green polymers / degradable plastics), Plastics additives and auxiliaries, fiberglass and its products (yarn, fabric, mat, sleeving, tape, strand, wool, etc.), fiberglass production and processing machines and special equipment, wood plastics manufacturing equipment and products, other composite materials and advanced materials (Polyurethane, carbon fiber, all kinds of film products, industrial ceramics), materials testing equipment and devices, other advanced materials' production and processing machines and technology.

Partial exhibitor list of CIAMI 2010:
Evonik Degussa, KDF, Adeka, Kitamura, Biograde, Silichem, Sunny Chemicals, Wearmax Group/GreenGran, Jingfuliang, Julong Engineering Plastics, Ruiyin Environment-Friendly Materials, Wutung Engineering, Liansu Machinery, Lloyd Instruments, Zwick, etc.

WPC Zone:
Lianguan, Jufeng New Materials, Geli WPC, Royal WPC, Jwell Extrusion Maxchinery, Xinxing Dual Screw Machinery, Fanchang Machinery, Beier Machinery, Jinhu Extrusion Equipment, Baixiong Machinery, Qingdao Laminate Machinery, etc.