Innovation - The buzzword at Sintex, says Rahul Patel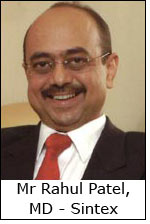 Revenues in the textile division of the Gujarat-based Sintex Industries Ltd shot up by 25.61 percent to touch Rs 942.70 million for the quarter ended September 30, 2010. In the same period EBIT stood at Rs 128.73 million.

The fabrics manufactured by the textile division are sold under the brand name of BVM and is a profitable and high-margin segment of the Sintex Group. Sintex specializes in distinctive products, catering to the upper segment of fashion industry and is considered the largest producer of corduroy and structured fabric in India.

Sintex has forged alliances with various European design houses and sells fabrics to reputed brands like Arrow and Van Heusen and also indirectly to global retail majors like Armani, Hugo Boss, Diesel, Burberry, DKNY, S.Oliver, Zara, Mexx, Meggimo Dotti, Banana Republic, etc.

Sintex is a highly growth oriented company that develops products and solutions which are aligned with the growing sectors of economy. Driven by innovation, Sintex group has a dedicated innovation team that constantly looks for business ideas and opportunities, who strive to develop products that no one else has made before.

Considering the circumstances under which the textile division was able to post a revenue growth of more than 25 percent, fibre2fashion spoke to Mr Rahul Patel, Managing Director at Sintex, who is also a MBA from USA and has 20 years of experience under his belt.

F2F: Rate your company's performance in the present situation.
Mr Patel: Currently the textile industry has started sensing positive moves and only the best performers will be able to avail of these improved opportunities. We are therefore putting more stress on new product development with creative and innovative designs as per fashion trend.

We also can satisfy our customer by consistent quality and timely deliveries. We developed new markets in South American countries like Brazil and Argentina, UAE in Asia and Russia, to name a few. Considering above mentioned facts, our overall company's performance is good.

F2F: What steps helped the company to post excellent results, for example, any cost saving or efficient measures, undertaken in particular?
Mr Patel: Right decision at the right time was what helped us. Among others we also laid more stress on new product development, consistent quality and timely delivery, more concentration towards domestic segment where the price revisions could be absorbed for our qualities, mainly, structured yarn dyed shirtings and selected best customers in terms of realization and offered them, major volumes.

Moreover, we have taken all level measures for reducing cost of production and increasing internal efficiency and capacities.