NearSea & Daniel Sanders tie up revives textile mill country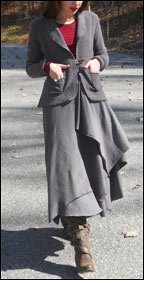 NearSea Naturals, an online supplier of organic and sustainable fabrics, has joined with textile industry veteran Daniel Sanders in a partnership designed to leverage Sanders' 20 years of experience in the eco-fashion sector and enable complete vertical manufacturing for local, US-made, organic fabrics.

The production and fulfillment operations for NearSea Naturals have moved from Santa Fe, New Mexico to Asheville, North Carolina. The state is a center for American textile manufacturing. "This partnership is an economic stimulus to the region," said Sanders, adding that the fabrics created within its rubric are local and sustainable. "Everything takes place within 100 miles of our facility – spinning, weaving, finishing, and more. Our local design and vertical manufacturing of US organic fabrics, coupled with direct-to-consumer sales, is unique to the industry."

In business since 2002, NearSea Naturals will maintain its corporate offices in northern New Mexico. A total of six jobs have been created in the NearSea Naturals facility in Asheville, with six to eight additional positions projected in the next year.

"At a time when many textile jobs and businesses are going overseas, our customers of organic and sustainable fabrics are demanding domestic. They understand the importance of supporting the US textile industry and want to keep their business supply chains local," said Tara Bloyd, president of NearSea Naturals who founded the business with her mother, Winnie Culp.

She elaborates: "I came to organic fabrics out of critical need – to clothe my first child, who was born prematurely. I wanted only safe, toxin-free fabrics next to his fragile skin. Now this is a lifestyle choice, not only for my family but for an increasing number of other people as well."

The driving force for the new partnership is the "Made in the US" label, which CEO Culp says customers consider advantageous. She explains that domestic organic and sustainable fabrics meet customers' expectations for a variety of reasons, including high production standards, increased economic benefits, and environmental accountability.

The Organic Cotton Market Report 2009 published by the Organic Exchange, a nonprofit organization based in Texas, has only optimistic news about the growth of organic cotton and its potential. The report states: "Despite the recession, 2009 continued to be a dynamic year for the organic cotton sector. Companies reported significant, and in some cases phenomenal, growth of their organic cotton programs and increased adoption of standards addressing organic product integrity and textile processing."

Sanders, whose business Spiritex, Inc. manufactures sustainable fabrics and finished goods, is considered one of the early pioneers in the world of eco-fashion. In 1990 he founded Ecosport, Inc, the first mass producer of organic fabrics and clothing in the US; the company was purchased by Gaiam, Inc. in2000. Ecosport sourced raw organic cotton directly from farmers and leveraged contracts with cotton spinners that turned fiber into yarn. Sanders believes the partnership with NearSea Naturals represents an alternative model of a business relationship in which two separate and potentially competing enterprises recognized the benefit of working together and took the next step.