High cotton prices – Spinners & weavers cut output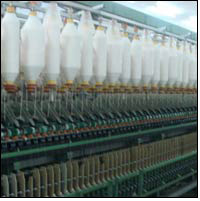 Following a surge in yarn prices, due to the spurt in raw cotton prices and also cap on cotton yarn exports, spinners have been forced to cut operational rates, mainly, due to unusually high inventory levels.

Big spinning mills are holding inventories of around 30 days, followed by mid-sized ones with 15 days. But it is the smaller ones who are facing the brunt as they cannot afford to carry even a day's inventory.

However, experts from the spinning sector opine that, till the time cotton prices were ruling round Rs 50,000 per candy (1 candy=356 kg), they were in a comfortable position.

But after cotton prices scaled the Rs 60,000 per candy mark, yarn prices have not increased proportionately. Only those mills holding old cotton stocks are operating at full rates, while the rest have cut down on production, they informed.

In order to get a first-hand report, fibre2fashion spoke to a cross-section of businesses across the spinning and weaving textile value-chain.

Speaking to fibre2fashion, Mr Jayesh Patel, Owner - Shiv Shakti Tradelink (P) Ltd said, "Businesses have been impacted for sure as the basic raw materials; be it cotton or synthetic fibres, prices have risen exponentially. Due to crude oil prices ruling firm, synthetic fibre prices have skyrocketed, whereas due to dearth of cotton and increased demand, cotton prices are also at their peak.

"Earlier cotton was available at Rs 40,000 Rs per candy; today same cotton prices have shot up to Rs 60,000 per candy. Had it been quoting round Rs 50,000 per candy, it would still have been bearable, but Rs 60,000 per candy, is too high a hike, to be absorbed.

"Obviously this all surmounts to an increase in production costs, leading to a rise in yarn prices. If the basic raw material gets costlier, the hike is definitely passed on to the next stage and thus, the impact is felt across the entire value chain.

"For fabric makers, current yarn prices are high, whereas for yarn makers like us, raw cotton prices are too much. I envisage these happenings to bring down the businesses, he concluded by saying.

"Prices of raw materials like cotton and synthetic fibres have increased to a great extent. It is very essential that these increases in costs are passed on to fabrics and gradually to the garment segment. If not, around 50 percent of the units will face threat of closure", opined, Mr KA Patel, Vice-President - Ahmedabad Powerloom Owners Association.

Mr Anish Shah of Kalpataru Enterprise and an Ahmedabad-based yarn broker said, "As compared to raw cotton prices which have doubled, yarn prices have not yet appreciated much, which ultimately kills profit of yarn makers, as a result, spinners are cutting down production".

"This can impact our sales too. Both weaving and spinning sectors are confronting high-price low-profit brunt. Crude oil prices are also rising, due to which, prices of synthetic fibres too have risen. So whether blended or pure, both ways, fabrics making costs have escalated", he observed.