Durst Phototechnik invests in Digital Textile Printing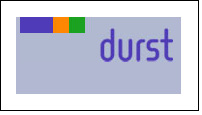 Durst Phototechnik AG, the leading manufacturer of industrial digital printing equipment, is presenting its new Textile Business Unit at the FESPA trade show in Hamburg (May 24-27). This new division of the company, headed by Christoph Gamper, is working on the next generation of digital printing technologies for textiles.

The Durst Textile Team, based at the company's development facility in Kufstein, Austria, has been entrusted with the task of designing the high-performance textile machine and coordinating Durst's proprietary Quadro printhead technology with the relevant textile specifications. In parallel with this, specialists at the Research Center in Lienz, Austria, are testing high-grade inks for textile printing based on dispersion, reactive and acid inks. The aim of this project, entitled Kappa, is to have a powerful digital textile printer – with a printing speed well in excess of 500 m2/hr and with excellent printing quality – ready for presentation at the ITMA 2011 trade show in Barcelona.

As Christoph Gamper, Segment Manager Textile at Durst Phototechnik AG, explains: "With the Kappa project, we will be moving digital textile technology a significant step forward. Although Digital Textile has made a name for itself in the fields of design sampling and soft signage, it still plays a comparatively minor role in the global textile supply chain.

The benefits of digital printing technology are well known right across the market but, lacking effective solutions, Digital Textile is simply not perceived as a genuine alternative to or as a supplement to traditional finishing processes. Particularly with the European textile sector in mind, Digital Textile offers the opportunity of responding swiftly to customers' changing requirements and achieving diversification and an edge over the Asian-based mass producers. We are confident that a new era for textile printing will be ushered in at ITMA 2011."

Durst is regarded as a pioneer in the field of photographic technology and has launched a host of innovations on the market in the course of its 80-year history. In 1994 the company developed the Durst Lambda, the world's first laser-based output device for the high-resolution digital printing of images on photosensitive roll materials. More than 1,000 Lambda units have already been installed and are used for image reproduction in connection with large-format advertisements, surveying, satellite data collection and medical engineering.

Since 2001, Durst has been developing large-format inkjet-based printers and has a reputation as being second to none in terms of printing quality and performance. In 2005 Durst adapted inkjet technology to suit industrial applications in the fields of ceramics, glass, laminates and floor slabs, with the result that now even rigid materials can be printed digitally with an unlimited range of colors and with high resolution.

In 2010 Durst brought out the Rhotex 320, a dye sublimation textile printer which sets new standards of quality in the industrial soft signage segment.