Margin expansion in global Olefins & Polyolefins, LyondellBasell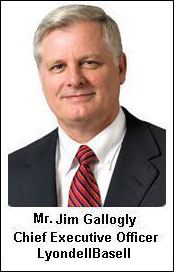 LyondellBasell Industries announced net income for the first quarter 2011 of $660 million, or $1.15 per share. First-quarter 2011 EBITDA was $1,402 million, an 84 percent increase from the fourth quarter 2010 figure which excludes a $323 million lower of cost or market (LCM) inventory adjustment. Sales in the first quarter were $12,252 million, an increase of 15 percent from the prior quarter.

"During the first quarter, we again demonstrated the earnings potential of our company as margins increased in nearly all businesses compared to the fourth quarter 2010 despite significant raw material pricing pressures," said LyondellBasell Chief Executive Officer Jim Gallogly. "Our EBITDA of $1.4 billion reflects solid operations, an improved cost structure and improving markets, particularly in the U.S.," Gallogly continued.

"In U.S. olefins operations, we continued to optimize plant operations to take advantage of low-cost ethane while in European olefins we saw a recovery of margins from depressed fourth quarter levels. We received an $82 million dividend from one of our Saudi Arabian joint ventures during the quarter. Our Intermediates & Derivatives segment delivered record quarterly results as higher propylene prices were largely passed through," said Gallogly. "In our Refining & Oxyfuels segment, we completed a major turnaround at our Houston refinery fluid catalytic cracker, and we are realizing the benefits of the upgrade. The Maya 211 spread increased more than $5 per barrel this quarter to nearly $24 per barrel, and oxyfuels spreads have rebounded from their typical winter lows," Gallogly said.

Outlook

Commenting on the near-term outlook, Gallogly said, "The second quarter is off to a good start. Conditions experienced in the first quarter were maintained and, in some areas, improved during April. We continue to advance our internal programs and are taking another step towards reducing our debt by redeeming 10 percent of our outstanding 8% Notes due in 2017. On May 5, we will hold our Annual Meeting of shareholders in Rotterdam. Items to be voted upon at the meeting include expanding the Supervisory Board and initiating a dividend."

Lyondellbasell business results discussion by reporting segment

LyondellBasell operates in five business segments: 1) Olefins & Polyolefins – Americas; 2) Olefins & Polyolefins – Europe, Asia, International; 3) Intermediates & Derivatives; 4) Refining & Oxyfuels; and 5) Technology.

Olefins & Polyolefins - Americas (O&P-Americas) – The primary products of this segment include ethylene and its co-products (propylene, butadiene and benzene), polyethylene, polypropylene and Catalloy process resins.

Three months ended Mar. 31, 2011 versus three months ended Dec. 31, 2010 – Excluding a $163 million non-cash LCM reversal in the fourth quarter 2010, underlying EBITDA increased $142 million versus the fourth quarter 2010. Olefins profitability improved approximately $70 million as an average ethylene sales price increase of approximately 2 cents per pound was coupled with an approximately 3 cent per pound decrease in the company's average cost-of-ethylene-production to drive margins higher. Higher sales volumes contributed to an approximately $30 million improvement of polyethylene (PE) results compared to fourth quarter 2010. Polypropylene (PP) profits for the first quarter increased approximately $10 million. Total polyolefins sales volumes were approximately equal to fourth-quarter volumes.