Filature Miroglio switches to Newlife platform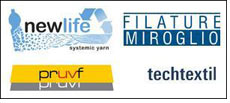 Filature Miroglio has announced that it is switching all of its virgin polyester filament yarns to Newlife, a technologically innovative certified yarn platform whose comprehensive sourcing and production approach is based on exclusive horizontal partnerships and processes all made entirely in Italy.

• Newlife, a unique, complete and certified system of recycled polyester filament yarns coming 100% from postconsumer bottles sourced in Italy, will substitute all the company's virgin polyester filament yarns by 2015. On the occasion of Techtextil, Filature Miroglio will also display the latest innovation in the Newlife range: Pruvf.

• Pruvf recycled polyester filament yarns provide permanent UV-resistance performances, this makes them ideal to produce fabrics for curtains and outdoor coverings.

The announcement will take place at Techtextil, Hall 3.1, stand G 59 M, Frankfurt, May 24-26, 2011 where Filature Miroglio will also present Newlife as its key marketing story for the future together with Newlife's applications and performance qualities. One of these applications is Pruvf, the latest innovation in the Newlife range.

Pruvf recycled polyester filament yarns are resistant to photodegradation, they provide permanent UV-resistance performances. This property is intrinsic to the yarn and acts by protecting the integrity of the polymer chain from solar radiation thus allowing the yarn to maintain an high degree of tenacity even after 1500 hours of continuous exposure to light (ISO 105 B04). Such property makes them ideal to produce fabrics for curtains and outdoor coverings.

As they are mass-dyed yarns, in addition to the already existing colour palette, Filature Miroglio offers the opportunity of more colours upon request. In addition, dyeing the polymer already in the spinning stage avoids wasting water, with 10 litres of water per 1 kg of yarn used in the traditional yarn or fabric dyeing process. The recycled polyester yarns dyeing cycle and output is exactly the same as standard polyester yarn thanks to Filature Miroglio's research into and development of the dyeing process.

"The switch to Newlife for all of our polyester filament yarn products is simply good business sense," says Dr. Stefano Cochis, Business Unit Director of Filature Miroglio and the creator of Newlife. "Newlife is an incredibly flexible platform that allows for a vast number of applications and performance with levels of quality at least equal to virgin polyester equivalents, but with considerable resource and cost savings for the environment."

The exclusivity of the technology used in the creation of Newlife springs from a partnership approach which can be summarized as follows:

Newlife exclusive partnerships and production processes:

1. Demap: Italian company whose role is to source selected postconsumer bottles from waste recycling bins located in the north of Italy.

2. Dentis: Italian company that collects the selected material from Demap and through a mechanical (not chemical) process, converts it into a polyester polymer made entirely of recycled bottles, suitable for Filature Miroglio's spinning process.

3. Filature Miroglio uses all its 30 years experience, technological know-how and research commitment to transform Dentis polymer into a range of ultra high quality and performance recycled polyester filament yarns – Newlife - suitable for a wide variety of applications and with the same level of performance and quality of yarns made with virgin polyester.