Approval of Camicado Houseware's acquisition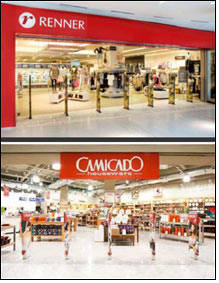 Lojas Renner SA's shareholders gathered in an Extraordinary General Meeting and have approved, by a majority of 99.9% of the voting shareholders present, the acquisition of 100% of the shares corresponding to the total capital stock of Maxmix Comercial Ltda., a company operating in the retail industry of houseware, bedding, bath and table linen as well as decor articles, under the trademark "Camicado Houseware", by the Company's subsidiary, Renner Empreendimentos Ltda., under the conditions of the Share Purchase Agreement executed on April 4th, 2011.

It was Antônio Jacob Renner who began to write the story of Renner. Of German descent, Renner began to work in the family lard factory in the township of São Sebastião do Caí while still a boy. In 1912, he constitutes the A. J. Renner Group, an industry with installations in the Navegantes district. The factory manufactured and sold pure wool overcoats for general use as well as a specific line in men's overcoats for keeping out the cold and protecting against the rain and the Minuano wind. Renner's overcoats were to become an indispensable item of apparel both for the Gaúcho of the Campanha (the pampas area of the state of Rio Grande do Sul) and traveling salesmen as well as the urban dweller.

Currently, Lojas Renner has 129 stores in Brazil, 39 of them in São Paulo, 18 in Rio Grande do Sul, 14 in Rio de Janeiro, 10 in Paraná, 7 in Minas Gerais, 8 in Santa Catarina, 5 in the Federal District (Brasília), 4 in Bahia, 3 in Pernambuco, 2 in Ceará, 5 in Goiás, 2 in Amazonas, 2 in Espírito Santo, 2 in Pará, 1 in Mato Grosso do Sul, 1 in Mato Grosso, 1 in Paraíba, 1 in Sergipe, 1 in Roraima, 1 in Rio Grande do Norte, 1 in Alagoas and 1 in Tocantins.

Lojas Renner S.A.