NY futures perform mixed this week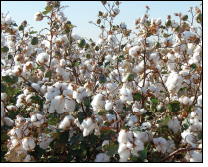 NY futures performed mixed this week, with July bouncing 1135 points to close at 155.65 cents, while December remained unchanged at 119.19 cents.

The market is currently in an adjustment phase, as it tries to make the transition from a price level that was well over 2 dollars just a couple of months back to a spot price that will be roughly half of that when December takes over as the lead month around the middle of June.

Due to the record inversion there has been strong resistance by mills to pay the current asking prices for nearby shipments. In addition to that we are witnessing some destocking in the downstream sectors, as holders of relatively expensive inventory are trying to clear it out before prices adjust lower.

Even though raw cotton supplies are at historically low levels, they are still plentiful compared to mill demand that is basically non-existent at the moment. Everyone, from merchants to mills, is trying to get out of existing inventory in order to reload when prices become a lot more attractive.

In a matter of just three months the market has gone from a wave of panic buying and hoarding to a wave of liquidation. This up and down action has made it difficult to gauge the true level of demand, because it either appears stronger or weaker than it really is. At the moment we need to be careful not to conclude that demand is weak, because we are in the midst of a destocking phase.

We believe that global demand at the end-user level is still on a growth path and would not be surprised to see upward revisions in the USDA numbers down the road, especially since prices are becoming more affordable for mills.

US export sales report confirmed the dismal state the market is currently in, as sales for both marketing years combined showed a net decrease of 7'200 running bales last week. New sales of 89'700 were not enough to offset cancellations of 96'900 running bales, most of them coming from China.

Total commitments for the current season now amount to around 15.8 million statistical bales, of which some 12.3 million bales have so far been shipped. Commitments for the 2011/12-season still amount to about 5.8 million bales of Upland and Pima combined.

Considering how quiet it has been in the physical market, the rally in July futures may have come as a surprise to many. However, there are several reasons behind July's renewed strength. The most obvious is that Allenberg has de-certified just about all of the notices they have received against the May contract so far, more than 218'000 bales at this point.

If this pattern were to continue, we could see another 176'000 bales de-certified by next week. The disappearance of the certified stock is making July shorts nervous and some of them have probably decided to get out of harms way.

The less obvious reason for July's strength may have to do with the massive spread position that large speculators hold. When we look at the latest CFTC report, which includes futures and options positions, we notice that large specs had a 10.0 million bales 'delta-adjusted' spread position as of May 10, which by default consisted mainly of July/Dec spreads.