Toray Textiles Europe launches two new protective fabrics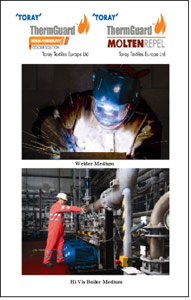 Toray Textiles Europe Ltd, a world leader in textile manufacturing has launched a revolutionary range of heat and flame resistant fabrics ThermGuard High Visibility and ThermGuard Molten Repel.

These innovative fabrics, with international patents pending, are designed to protect industrial workers exposed to thermal hazards, low visibility, electric arcs and molten metal splashes. These new inventions have been developed in collaboration with customers, laundries and end users and specifically those working in utilities, rail, chemical and petrochemical, airports, foundries and heavy industry to ensure outstanding quality and comfort is coupled with enhanced performance.

ThermGuard High Visibility can be supplied in any EN 471 high visibility colour including GO/RT 3279. The fabric conforms to industry standards and in particular ISO 11612: 2008 for clothing that protects against heat and flame, EN 471 GO/RT 3279 high visibility work wear and EN 61482-1-1: 2009 protection against the thermal hazards of an electric arc with an open arc rating of >8cal/cm2.

The fabric is breathable, comfortable to wear and stable to industrial washing whilst retaining excellent light, colour and wash fastness. ThermGuard High Visibility has been developed specifically for those working in Industries such as utilities, rail, chemical and petrochemical and airports.

ThermGuard Molten Repel is a unique high performance durable fabric that protects against large and small molten metal splashes developed for those working in foundries and heavy industrial manufacturing plants where the processes of smelting, casting, welding, cutting and grinding are common.

Because of the combined technology of Teflon and meta aramid the fabric provides 'non-stick' and heat and flame resistance properties, molten metal splashes are simply repelled from the surface rather than sticking, providing exceptional levels of 'shedding' and durability.

Molten metal splashes can stick to the surface of several types of protective garments and conduct heat through the fabric that can lead to serious burn injuries and/or ignition of the garment. However, this brand new innovative technology provides excellent shedding of molten metals and is comfortable to wear and durable, retaining its properties for over 50 washes whilst continuing to achieve ISO 11612: D3 and E3.