Need to improve relations of power & service strategies, EURATEX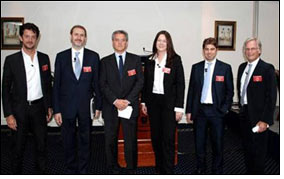 On the 9th June 2011 the EURATEX President, Mr. Alberto Paccanelli, in welcoming the numerous participants to the public part of the EURATEX Annual General Assembly stated that:"The textile and clothing industry registered in 2010 a far better year compared to 2008 and 2009.

"The industry reacted positively to the somewhat better economic environment allowing to reach a turnover of € 172 billions (+4,2%) a level still below the pre-crisis ones but announcing a growing confidence into the future as the industry registered more than € 5 billion of investment in machinery (+11%) to which we should add all the intangible investments done by the companies to better services their markets, be them industrial, home or fashion.

"In the market the dynamism of the more than 127.000 T&C companies, still employing over 1,9 million workers within the EU-27 boundaries, is materialised by innovative approaches offering flexible solutions to solve the societal challenges we are faced with. EURATEX will continue to act strongly to support the industry competitiveness in ensuring the best possible framework both within the EU-27 and abroad".

He continued in welcoming the participants to the panel on the "The future relations between Textile & Clothing industry and retail" stressing the importance of a broad discussion on the current and future developments in retail and assess how the relationships within the chain might evolve.

In her opening keynote speech, Mrs Dorothea ERN-STOCKUM (Managing Director, Kurt Salmon) highlighted how the consumers needs, the blurring frontier between brands and retailers and the new e-channels has/is and will influence the way of the T&C pipeline is working. She outlined how the supplier market has changed with the generalisation, among the top actors, of a parallel and vertical integration process that she summarises with the "Act Vertical" motto.

In concluding her speech Mrs Ern-Stockum stressed that "In future, winning companies will be the ones able to connect with consumers and optimise their in-store experience thanks to an integrated business and product planning. The latter should speed-up design and development while integrating sourcing, supply and logistic partners with the aim of improving companies service strategies and create unique flow paths."

While not rejecting such generalisation, Mr. Carlo MASSOLETTI (AEDT VP and independent retailer) highlighted that the recent years confirmed the difficulty to apprehend the consumer and that in his view" experience has shown that, when suppliers and retailers cooperate, exchange information on stock levels and sales and, more generally, create solid and long-lasting relationships as business partners, both parties can achieve much better results than if they deal with each other merely as suppliers and buyers." In this context, despite higher costs, sourcing in Europe and in the proximity area will help both actors to remain active in the market.