OptiTex launches new version of 3D Runway software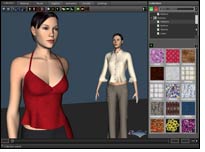 Israel based OptiTex, a leading international developer of software for the fashion and textile industry, has just announced the release of its new 3D suite of tools incorporated into the latest version of its flagship software product geared for the textile, home furnishing, upholstery and other sewn products industries.

With these latest innovative developments, OptiTex is looking to further enhance the current workflow so commonly practiced in the textile industry by enhancing the collaboration between design and production and by providing the means to a fresh and innovative shopping experience for both the enterprise customer as well as the private customer.

The accuracy of OptiTex 3D Runway software enhances the quality of the products produced and reduces product development time from design through production, thus providing a fast and accurate solution for sales and marketing on the Internet.

OptiTex 3D Runway is a fabric simulation software system that allows for instant visualization of pattern modification using 3D on-screen models with adjustable body measurements. The system enables several simulated posture positions and continuity of movement with the garments while enabling the customer to evaluate and comment on the final product immediately, before any production material is used.

Moreover, OptiTex 3D Runway provides the perfect tool to fully present animated current or future collections in a rich 3D environment with diverse backgrounds and the possibility of preparing a full Fashion Show with more than one avatar on screen.