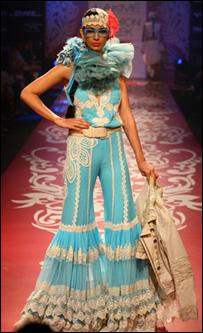 As the country's leading trade and fashion platform, Lakmé Fashion Week ushered in new talent and expanded its reach by tapping buyers from across the country to promote Indian craftsmanship and facilitate trade for designers. Winter/Festive 2012 addressed the power of e-commerce, creativity and social media and successfully concluded yet another season of Lakmé Fashion Week.
The season witnessed a remarkable growth in the number of buyer registrations from across the globe with a total of 220 buyer registrations that included 175 domestic and 45 international buyers. A platform that functions as a creative and trade outlet to showcase innovative designs from around the world, LFW has established itself as a strong networking ground for designer and buyers to collaborate and build relationships. LFW Winter/Festive 2012 saw an exponential growth of participating designers and greater business opportunities for buyers as well.
Lakmé Fashion Week this season also announced Gaurang Shah as the winner of the LFW Heritage Award- a cash prize of Rs. 1 lakh for the designer who best incorporated Indian textiles in his collection for Indian Textile Day. The winner was selected by a prominent jury of Jaya Jaitly, Maximiliano Modesti, Krishna Mehta and Anjana Sharma.