A company that's looking to crossthe $1billion mark. A company that has grown by building strong partnerships. Acompany that has succeeded by promoting entrepreneurship and hand-holding it tosuccess. Richa Bansal talks businesswith Pallak Seth, the man whofounded and propelled Hong Kong-based PDS Multinational into being one of themost favored designer-manufacturers for some of the world's leading high-streetbrands and retailers.
Chances are that as you read thisopening sentence, the t-shirt, dress or shirt brand you are wearing could havebeen designed and manufactured at one of the worldwide units of high-streetsupplier, and manufacturing and sourcing firm PDS Multinational. Spearheaded bythe young and dynamic Pallak Seth (vice-chairman and founder), the HongKong-headquartered $1billion (FY 17-18) group designs and supplies apparel,among other fashion categories, to many of the world's leading brands andretailers.
But, it is not as simple as itsounds. PDS, which has just opened two humungous state-of-the-art manufacturingunits in Bangladesh with a total investment of $25million, operates from aglobal network of 31 offices in 18 countries, supported by more than twothousand people across Europe, North America, Middle-East and Asia. Its 150 designersand product development professionals, operating out of ten key globalmetropoles, cater to 210 leading retailers and brands, churning out 10,000 newstyles every month, deliver over a million pieces per day to worldwidecustomers. The mantra obviously is to have a global footprint which allows forthe right product in the right country and from the right factory. Location,location, location is critical to retail, and thus to manufacturing too.
<![if !vml]>
<![endif]>
How does he manage this huge operation? Great teams, says he. Teams? Yes!
Norwest Industries in Hong Kong marked Seth's entry into the world of apparel manufacturing in 19991. He was all of 21 (got married too at this age) and over time he realized that to grow his business he needed to attract some of the best players in the market. So in a unique enterprise, the global heads of some leading multinational companies were won over to go entrepreneurial. These leaders now form the source base from over 10 countries around the globe-the critical cogs that help PDS deliver as the best supply chain network for its customers. "Our vendor relationship management systems have helped us in understanding and improving our vast global supply chain system. Our primary goal is to deliver the best possible sourcing with a keen eye on quality, time to market, and price. Our vendors are our partners in this goal. Our vendor support initiatives include financing, quality and operational assistance, and compliance and ethics implementation," the PDS website proclaims.
Says Esra Ercan, head of PDS' Turkey business-Spring Near East Mfg Co Ltd: "I had been sourcing and producing in the Middle-East, Africa and Europe region for the last 25 years, up until I met Pallak and decided to team up with him. I had earlier worked for corporate offices and run their sourcing liaison hubs in this region. I left Tesco International Sourcing in 2011, after opening their sourcing hub in Turkey in 2003-end. I felt like it was time for me to use my 25 years of sourcing experience and take one last successful set up.
How difficult or easy was it to break even, and what has been the growth since inception? "We broke even after the first year. Every year we doubled our turnover up till 2017 and our passion is to keep growing against all odds in the UK," says Ercan over an e-mailed communication.

But, after successfully working with partner subsidiaries for so long, why set up own manufacturing units now, though it does already have a much smaller facility in Sri Lanka (staff of 500)? These new ventures in Bangladesh, assures the usually media-shy Seth, will not replace the existing set-up. "The aim is not just to add an incremental 20 per cent to topline sales, but also to keep in sync with customers who are increasingly looking for manufacturing groups rather than sourcing-only hubs. These units notch up our credibility and affirm to our worldwide clients how we are investing to attract new customers," says the father-of-three globetrotter as he hops around for the major part of a month, reviewing businesses, exploring and clinching new deals and lots more. Travel, by the way, is a hobby apart from work, besides also collecting major art works of contemporary Indian artists like Subodh Gupta, Atul Dodia, Bharti Kher and others. "It's an enjoyable business to be in, to meet interesting people." The globetrotting demands that he run three homes-one each in the UK, Hong Kong and India.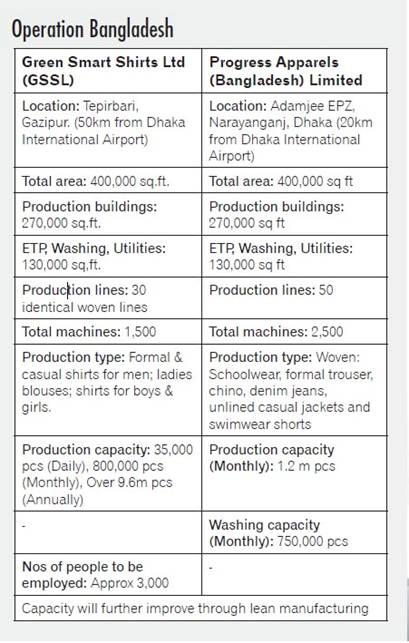 These three manufacturing units-the one in Colombo and the other two in Bangladesh-will together give a topline of about $150-200 million for the next three years, per year. "We want manufacturing to be around 20 per cent of our business, 80 per cent being from design led sourcing. We want to grow on a very stable foundation by attracting the right people and investing in the right locations for manufacturing. Once we consolidate these we will expand to other geographies. We are looking at Myanmar, Ethiopia and Vietnam as our next destinations. In India, we are watching industrial growth in areas like Jharkhand. We don't want to be the first movers. But a lot of government subsidy is coming up in that part of the country, and we could explore that region. But first we want to stabilise what we already started."
And the reason to choose Bangladesh over any other country is because that country's "government is very supportive at all levels. There is hardly any interference, and the labour productivity is very high. Labour there is willing to work and get trained. India has its share of problems. Here, if the business is not going well, it is difficult to restructure unlike as in other parts of the world. Second, there is a lot of bureaucracy to deal with. The government is supportive at the centre but at the state and district levels, where the factories are established, there are huge issues of bureaucracy. That's why we don't own factories in India."
Soon after word spread about the new factories in Bangladesh, there was a steady flow of applications, almost four to five for every one job. "Working conditions very often in this country can be abysmal and so as soon as people get to hear of a new state-of-the-art establishment they want to work there."
Manufacturing in Bangladesh has faced a lot of flak in recent times. Seth assures that that country has some 5,000 factories but the two from PDS will be counted among the top 50. Based on lean manufacturing "our two set-ups sprawled over 800,000 sq ft will not just be fully air-conditioned but will be the first ever to have LEED (Leadership in Energy and Environmental Design) certified BEPZA buildings and washing plants. We will also ensure that the worker: machine ratio is maintained from the very outset. All the designs have been approved by the government and Accord & Alliance, and the factories have their own automated fire hydrant systems. The Accord on Fire and Building Safety in Bangladesh and the Alliance for Bangladesh Worker Safety are independent programs aimed at improving worker conditions and safety in the country.
My next question and this entire conversation patched up over phone from the head office of his UK subsidiary-Poeticgem-at Watford, Hertfordshire, after tracking him for almost two months is now that a new national textile policy is on the anvil, what would be your five labor reforms that the industry is crying for right now?
PS: I am not technically well-versed with all that is happening in India. We are not in the manufacturing business; so, we don't know. But, the broader picture is that labor productivity is lower there, the environment is not conducive for restructuring of large manufacturing units in apparel because it is volatile; there is bureaucracy in various departments of the government. This situation is probably more true for North India. India is a huge country and some of the regions are quite supportive of the garment sector in terms of government aid and its involvement in the business. I think people find North India the most difficult place to operate in, but in South India and other parts like Jharkhand and Orissa, state governments are giving good incentives, and people are looking forward to expand their business.
RB: Right now the world is going through various difficult situations. The US is pushing for make in US, UK is also saying the same, while Germany has stopped with visa provisions. How do you see the scenario evolve, considering the volatile times we are in. How will all these factors affect business?
PS: At present, there are macroeconomic challenges and uncertainties. During this period, most of the companies shy away from making investments. Whenever there are macroeconomic challenges, there is consolidation happening, both at the retailer and supplier levels. Stronger companies will get stronger and the weaker ones will fade away. If a business is in part of the consolidation, they will do well. For instance, in 2008 during recession, our company almost doubled in turnover in three years. A lot of our retailers aligned with the suppliers and we were part of that strategy of consolidation. Now, we understand that during such challenges, many people try to either exit the industry or restructure their business during which they outsource the design or any other solution; in that consolidation we benefitted.
RB: Technology is coming up in a big way. Any plans to come up with your own brand which you would be wanting to retail?
PS: We have already seen so much on the supply side and more people are shying away from the sector. We feel better focused on our core strength, which is designing and supplying to large retailers and brands. We are adding value in the process of designing.
RB: Your company employs 150 designers and product development specialists. What is the brief given to the designers-do what the brands ask for, or do the designers suggest or come up with their own designs? How does it work?
PS: It is a very collaborative process of working with our customers. Our design team and theirs work closely with each other from the beginning of the season. They even do joint trips for fashion shows in Tokyo, Los Angeles, Seoul, New York to find out the new trends. Based on the trips, they come up with a colour palette and the story they want to work on for the next season. Many of our clients outsource their design process to us and our design team then works on it and develops samples for the buyers.
RB: How much do you get into the nitty-gritties of business like in design or any other field?
PS: I look at the macro picture. When I started the business almost 18-19 years back, starting from scratch to running the entire business, obviously I had understood as to how the business works and what are the details required to make a business successful. When the first strategic alliance worked well, we started replicating by hiring other entrepreneurs in the company and gave them a similar kind of infrastructure where they have their own teams and support, gave them the tools that they require to succeed like financial, banking and IT support. My job currently is finding entrepreneurs in the industry, backing them with infrastructure and concentrating on maintaining relations with top clients which constitutes half of my time, and continuing interaction with banks on a quarterly basis to ensure that we are supported to propel growth. We have monthly business review calls with all business heads just to know they are performing and learning about the risk.
RB: So, no plans to get into other parts of the business?
PS: Not directly, but if there are any investment opportunities with capability in running businesses, we will do that. We have done in the past also. We are invested in some businesses like the German fashion house Lerros, counted among some of the best premium casualwear apparel players in Germany. PDS has also partnered with the 'King of high street', George Davies in his latest venture FG4 with Fawaz Alhokair, the Saudi retail conglomerate. A fashion brand for babies, girls, boys and young women, FG4 currently has 70 stores trading across five countries in the Middle-East and Central Asia.
RB: What would be your advice for entrepreneurs who have a lot of passion and want to get into business on supply chain side but don't have enough seed money?
PS: Banks are not supporting our industry at all. It takes six months for new companies to open a bank account. Companies like PDS are giving entrepreneurs the platform to join the industry. Some 10-15 years ago, anyone could have set up a small office or unit and get into the business easily. Today, there are high barriers like lack of bank support, retailers not looking at new supply chain partners, and the most important factor is that of compliance. Today, if you are not a sizeable operation with full compliance, the retailers will not even look at you. It is difficult for entrepreneurs to enter the industry.

RB: How does compliance work across the PDS group?
PS: Compliance and ethics form the core of our design-led business. We take pride in the fact that we follow some of the most stringent compliance standards in the apparel sourcing and manufacturing industry. Our compliance team reports to the PDS board and not to the business CEO. This is because a business head could make a short-term decision based on his/her need to bag an order. But we as a group think long-term, and with the larger picture in mind. Little wonder then that the PDS clientele includes some of the biggest retailers and brands in the value to mid-market segment.
RB: You said about consolidation happening in the industry. Another 2 to 5 years down the line, how do you see the market evolving in terms of business of sourcing and the textile fashion industry?
PS: In five years, there will be more consolidation than in the last 30 years because a large number of retailers even in the US consumer markets are very slow. Many retailers are on the edge of going bankrupt. It is being said that almost 10,000 stores will close in the US alone and this includes apparel retailers, big established names that are going out business. The business is increasingly getting more fragmented. However, on the B2C side, there is a lot of opportunity for people who come with smaller brands and sell them online. The consolidation is going to happen on the suppliers' side. On the retail side what has happened is that all the big players are getting affected because of disrupting technology. With online players coming up, the barriers to enter are lower on the retail side. The designers can come up with products and sell it on retail platforms like Amazon and few others. Earlier, for people to get into retail B2C business meant a lot of investment in stores and other infrastructure. But today, Amazon is acting like the landlord of the internet. If you are able to come up with products then you can sell them on an online channel. These kinds of players are taking up the market share of established players.
RB: So if you had to do some forecasting, say 3-5 years from now, how do you see the market shape up what with omnichannel, digital, phygital changes in the marketplace?
PS: In the standard economy, they say the online business for apparel and footwear could become 30-35 per cent of the total money spent. That's what the retailers are bracing up for. They are probably reforecasting. Their turnover could go digital. For the brands too, 15-20 per cent of their sales are coming from online. Over a period of time this could go up to 30 per cent. So then they will give up the stores and go more onto the digital network. It is the reality today and this will continue for the next 3-5 years. After that it should stabilise. The malls will have to evolve. They will have to become entertainment centres, food and medical experiences. There's lot of talk about digital printing on apparel too. This is something to watch out for.
So, what about future plans? "Our top 20 customers are almost 50-60 per cent of our turnover. We have about 190 customers in our company which includes some leading retailers and brands. Most of them have some kind of a strategic relation with us and obviously they have a lot of trust in our compliance standards and design strengths because of which they continue to come back to us, and now these three manufacturing units will open more doors for us.
"We will touch $1 billion as topline in 2017-18. All this has happened organically. There were no acquisitions. We kept our balance sheet debt-free and if things continue the way they are, and we pick the right opportunities, we could double in the next 5-7 years, if there is no major setback in the overall economy."
For a man who clothes a huge segment of the population, dress is more a necessity. "I dress to look smart and elegant. Zegna is a favourite brand but I could shop at Zara too for some items. I am quite flexible that way." Ask him his mantras for success and he advocates-right attitude, passion, lots of energy, and transparency "in the way you operate with all your stakeholders (establishing a culture of trust with all stakeholders is key), and finding the right talent and people. You have to incentivise them right Being ambitious and conservative is good in business. Going step by step, finding the right opportunities. Companies usually grow through acquisitions. We didn't go for acquisitions and so no debt in our balance sheets. I'd rather invest in people than plant and machinery-that has always been my motto."