Spread over three floors at the upmarket Ninth Street, Laura Dols was first launched at the flea market at Waterlooplein. "My very creative boss started out as a hippie, bare feet and all," informs store manager Joyce, who has been with Laura Dols for 20 years. "People are more aware of vintage clothing. They consciously buy second-hand clothes now unlike say a couple of years back, and what brings back people to our store is the quality we sell which is not available everywhere."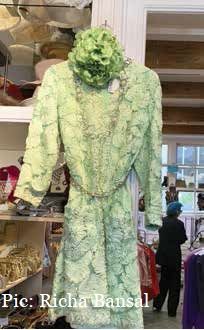 A mother-son duo vouch for the store: "This the best shop for secondhand clothing and we come here off and on. A lot of prettier stuff here. I love the colours, the shapes, and the dresses here are prettier. The quality is also much, much better." Earlier, it was something to be ashamed of, but not for this type of clothing, the mother continues. "This shop is for special occasions. The people who said no to vintage clothing a decade or so back, are going for it now."
Talking about the charm that second-hand clothing holds out for people of her generation, 24-year-old Annabelle, who manages a vintage store at the city centre, says: "I get my clothes second-hand. New clothes carry a huge environmental footprint. All my friends are into vintage clothing. This trend is very common among the university students, and it has caught up primarily because young people want to look different. Buying from a mainstream store you lose originality."
Joyce attributes the change to over-consumption, "and maybe also because people want to make a statement and want clothes that can give them a unique personality."
Retailing at price points that begin at €3 and can go up to €750, the store is witnessing an upward line, she concludes.
Click here for complete article.