We plan to open 50 outlets in 24 months
Breya is a brand of Indo-Western clothes for women owned by ABP Apparels Pvt Ltd. The brand is run by a team of four young professionals motivated to provide the best of designs and bring a difference to everyday womenswear. Breya retails through its 13 exclusive brand outlets in eight cities across India along with its online store and over 100 multi-brand outlets. Co-founder Pratik Agarwal shares the brand's retail journey since its inception and the action plan for the next two years.
How was Breya set up, who are the founders, what was the initial seed money, and what were the milestones achieved?
Breya was started by Tanvi Agarwal, Bikash Agarwal, Abhinav Tongia and Pratik Agarwal. Tanvi and Bikash have been in the women's apparel business for the past eight years, while Abhinav and Pratik have worked with the Investment Bank Avendus Capital for five years before starting Breya.
We opened our first exclusive offline store in Hyderabad in 2017. The response and feedback that we got for our collection was overwhelming and has since expanded to Bhopal, Siliguri, Jamshedpur, Bhubaneshwar and Guwahati. We currently have 13 exclusive brand outlets in eight cities. These are a mix of franchise and company-owned outlets. We have also built a distributor network across key states to target large multi-brand outlets (MBOs). We are currently present in over 100 MBOs in more than 30 cities. We are also seeing good traction from our own website (www.breya.in), mainly driven by customers visiting our physical stores. The initial seed money came from the founders and friends. 
Why did you choose to venture into the women's Indo-Western niche? What is the size of the global market in this category?
Indutva's or women's ethnicwear is the largest market segment by size in the women's clothing space and comprises a wide variety of players. However, we were able to identify a huge white space (customer need) in terms of design that was not catered to by any of the existing players-a segment that we have coined as the 'modern ethnic' segment.  The modern indutva is all about simple, elegant and smart designs incorporating elements from latest runway or catwalk trends into Indian silhouettes and designs that today's evolving women want to wear. A few niche designers are present in this segment but these are available at a very premium price point and are meant for occasion or party wear only. Our aim is to bring the aspirational modern ethnic designs to the customer at a very affordable price (₹1,000-
₹
1,500) and make them available for everyday use. 
The total size of women's apparel market is ₹1 trillion, out of which 30 per cent is indutvas and fusionwear. Within this, the branded wear is growing at 15-20 per cent per annum.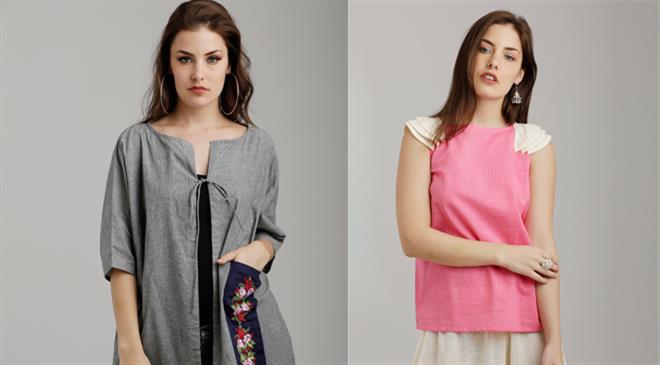 Which three factors will shape the Indian womenswear market in the years to come?
The assortment of designs, quality and affordable pricing of the product and technology will be the game changer in the near future.
Where do you source fabrics and accessories from?
We work with large and reputed fabric manufacturers from various parts of India.
Do you have your own manufacturing units? What is the annual production capacity?
We have our in-house design, sourcing and distribution team; only stitching is outsourced. We work with several production houses for stitching. We currently have an annual capacity of more than 5 lakh units and can scale it up to 10 lakh units.
How big is the design team at Breya? How do you gauge market trends?
Tanvi Agarwal, our creative director at Breya heads the design team. We first understand the forecast trends in prints, silhouettes and colours and then blend these to our own imagination of different stories that our customers can relate to. Each season has over 250 designs across three or four stories.
What are the trends in terms of fabrics, colours, prints, silhouettes and detailing in womenswear?
For everyday wear, organic fabrics like cotton, slub and linen are much in demand. In terms of prints, block and digital prints are doing well. We also do a lot of embroidery-based designs in various cuts and combinations that have been appreciated well by our target audience.
What was the turnaround year for the brand? What is your USP?
The USP of the brand is design, quality and price. We have successfully found a unique sweet spot-the right design language for today's modern Indian women that are of high quality in terms of fabric and overall finish and yet at the same time are affordable (₹1000-1500). This sweet spot gives an immense 'value for money' proposition to our product. The most important differentiator, however, is our design language. Tanvi helps in ensuring that the design language is consistent and customers can relate to the identity of the brand.