Innovation and development with further integration
Surat-based Madhusudan Group is a vertically integrated textile manufacturer of fancy yarns and fabrics. The group is a well-established textile conglomerate and has business presence in yarn air texturising and yarn dyeing, weaving, fabric processing and value addition. Executive director Deepak Mundra discusses the demand for man-made yarns and the company's expansion plans.
Has the increasing demand for knitted garments made an impact on the woven fabrics business?
Knitted and woven fabrics are now being made in the Indian market resulting in reduced imports of such fabrics from China. Woven and knitted fabrics have their own market share, but I can see the knitted fabric demand going up in the future.
How would you describe the global demand for man-made versus natural yarns?
The demand for natural yarns and fabrics has increased gradually. But the application of manmade fibres has also increased and apart from conventional textiles, a lot of manufacturers are seeing technical textile value chain as a new window to market their man-made fibre products. Most technical textiles produced are being made of man-made fibres and yarns, for instance, automobile textiles, geo-textiles, construction textiles, industrial textiles, medical textiles, protective textiles and sports textiles.
Which category of man-made yarns is faring well? What are the key growth drivers of this category?
We have seen immense growth in the demand for polyester catalyst yarn. Polyester has multiple applications and is being used in different products like furnishing and car seat upholstery. However, as Indian synthetic yarn and fabric performances have not been one of the best internationally, the domestic market will see the larger growth. Manufacturers of home textiles and technical textiles are also expected to increase the usage of synthetic fibres.
Which are your major domestic and international markets for yarns and woven fabrics?
As far as yarn is concerned, India is our home ground. We have clients in all textile hubs across India. Our major markets abroad are the United States, South America, Turkey, Indonesia, Europe, New Zealand, the Middle East, Bangladesh, Pakistan, Sri Lanka and South-west Asia.
When it comes to woven fabric, we are more focused on the domestic market, and at the same time our fabrics are exported to the United States and the Middle East.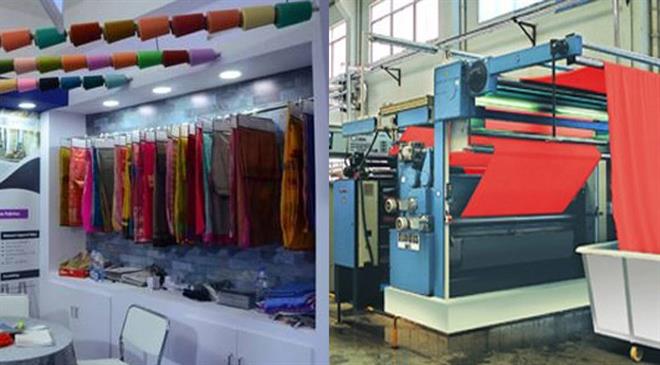 What challenges do Indian manufacturers face? What issues are specific to Surat's textile manufacturers?
We are talking about technologies and Industry 4.0, but our industry is yet to build good and basic infrastructure like China, Korea, Japan and Hong Kong have done.
Do you plan to get into garment manufacturing? What are your plans?
We are going to start manufacturing garments very soon. We will mostly focus on westernwear for men and women in woven and knitted fabrics. Under menswear, we will start with shirts, and t-shirts for womenswear. India being our home ground, we will cater to the needs of the domestic market first and then penetrate overseas. Fashion industry is booming these days, so we will initially approach small to medium brands to make garments for them.
Eventually, we will also be looking forward to launching our own brand. 
Where did you start your linen manufacturing? What are your future objectives to promote it?
We started it three years back. We make 100 per cent European linen flax fabric. We make suiting and shirting from it; however, it has multiple applications like westernwear and home furnishing and we want to capitalise on such products as well. Our linen has one of the finest properties like anti-fungal, UV-protection and decent air breathability. Domestically, we supply our linen to brands and other agents network channel. India has huge potential for this fabric, and we have good scope to reach out to a larger audience.
Where do you plan to make capacity expansions? What technologies do you plan to invest in?
We are in a continuous process of expansion and rejuvenating the industry with latest innovations. We believe upgrading technology has become inevitable nowadays. It will be very difficult to survive if you don't upgrade your product and your machine with the latest trends and technology. Our research and development department keeps innovating new products in yarns and fabrics to meet market demand and make customers happy.
What kind of steps do you take to address issues related to environment and sustainability?
We are concerned about the environment and energy conservation. Water consumption is a major issue with the Surat market. A lot of entrepreneurs believe in our teamwork, intelligence and products, and help us generate revenues. However, it is also important to give equal credit to natural resources. We select areas and on a regular interval engage in tree plantation and maintenance. Even these trees are tagged with GPS technology. (HO)