Sustainable supply chain concept still far-fetched for SMEs
Weaves is South India's premier textile fair organised by Texvalley in association with the Confederation of Indian Industry (CII). The second edition of the event will be held on November 27-30 in Erode, Tamil Nadu. Executive Director DP Kumar discusses the pain points of the textile industry in south India.
What are the key issues to be taken up at the second edition of Weaves?
Now, in its second edition, Weaves- south India's premier textile fair has evolved into a versatile shape where large varieties of textile manufacturers, weavers and knitters can showcase their textile products and interact with buyers, buying houses, procurement officers from various departments in the state government. 
Its key highlights would be addon pavilions on sustainable fabrics, natural fibres, etc; business networking opportunities through one-to-one meetings between businesses and the government departments; and discussions on technical aspects, fashion and sourcing.
How many exhibitors will participate? Can you share some details about the exhibitors? Which regions have strong representation?
We expect 225 textile manufacturers, machinery manufacturers, traders and providers of textile accessories and solutions. Exhibitor profiles include manufacturers of greige, knit, sustainable yarn, handloom, khadi, home textiles, accessories and software developers. Major representation will be from Tiruppur, Erode, Karur, Chennimalai, Coimbatore and Salem. In addition, exhibitors are coming from Karnataka, Andhra Pradesh, Panipat and Varanasi.
How many visitors are you expecting relative to the first edition?
The first edition attracted 7,500 buyers and visitors. We expect around 10,000 this year. The visitors and buyers are primarily garment exporters and manufacturers; buying houses and agents; domestic and international brands; fabric wholesalers, importers and processing houses; retail chains and boutiques; designers and architects; procurement officers of various state governments; online brands; powerloom or autoloom owners and weavers; and members of various trade associations.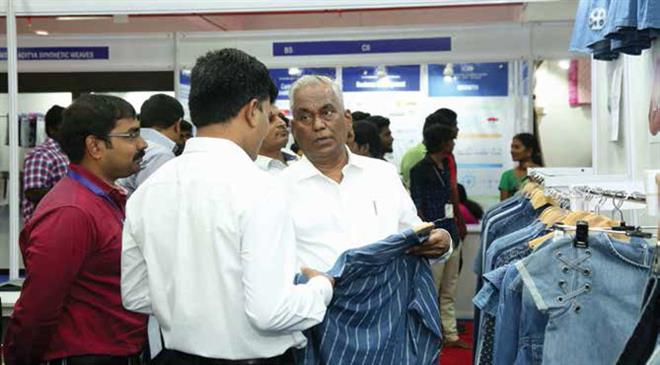 From which countries do international buyers come for sourcing? What sourcing standards and compliances do they look for from Indian manufacturers?
Overseas buyers mainly focus on our greige, cotton, home textiles, handloom, jute, khadi and printed and denim products. We are expecting buyers and buying agents from more than 35 countries, especially Sri Lanka, Bangladesh, the United Arab Emirates, South Africa, Myanmar and Vietnam. Many domestic ones also have shown interest in this fair and registered with us. 
Their expected standards include sustainable material sourcing, 5S (Sort, Straighten, Shine, Standardise, Sustain) and lean management in production, waste reduction and reuse management. They expect compliances on the social and environmental front, including sound employer-employee relationship, social comfort and security and social infrastructure for better living. 
In the present instability in international buying, brands have preferred expanding their merchandise sourcing from India. They mostly expect quality management, social responsibility and ethical practices, and environmental management and sustainability. Due to increasing pressure in the international market, Indian manufacturers are under a situation where they have to maintain standards according to the stipulated codes of international buyers. 
Why did you select Erode for the fair?
In the Indian textile industry, the Erode cluster has a great legacy and played a very important role in textile production to satisfy the state's domestic consumption. It has a traditional environment that uses modern methods.
What was the business generated at the last fair?
The first edition recorded about $50 million worth business.
What are the main challenges that manufacturers are facing in Tamil Nadu?
The following are some of the supportive steps expected from the government: 
Raw material price fluctuation: cotton import/ export regularisation, yarn price stability.  
Processing sector: Government support for professional, compliance-ready mills, like 75 per cent subsidy for common effluent treatment plant, 40-50 per cent subsidy for processing machines with low water consumption, and less solid waste.
Weaving mills: The Technology Upgradation Fund (TUF) grant needs to be increased to 30 per cent for high-speed loom of 600 RPM and above with low power consumption. 
Skill development incentives at factory level based on turnover and tax paid.  
Social infrastructure for textile units: Sector-specific affordable housing benefits, with a higher subsidy of 50 per cent of house cost up to a maximum of ₹4.5 lakh, should be made available directly to exporters to promote township for at least 33 per cent of working human capital who don't have own houses.
What key trends in production technologies are Indian manufacturers, especially in South India, adopting?
The industry perceives productivity improvement and quality consistency as the most critical advantages of advanced manufacturing. Large and mid-sized companies (revenue more than <span lang="EN-GB" style="font-size:11.0pt;line-height: 107%;font-family:"Calibri",sans-serif;mso-ascii-theme-font:minor-latin; mso-fareast-font-family:Calibri;mso-fareast-theme-font:minor-latin;mso-hansi-theme-font: minor-latin;mso-bidi-theme-font:minor-latin;mso-ansi-language:EN-GB;mso-fareast-language: EN-US;mso-bidi-language:AR-SA">₹100 crore) consider advanced manufacturing more relevant to their businesses compared to smaller ones. Four key trends encompass several of these technologies-additive manufacturing, advanced robotics, Industrial Internet of Things (IIoT) and augmented reality.
What about sustainable supply chains, blockchain and the circular economy?
Sustainable supply chain: It catches only in large scale organisations and that too for early adopters and process innovators. Even though sustainability in the supply chain is essential to deliver profitability and has replaced monetary cost, it seizes value creation opportunities and offers significant competitive advantages. The concept still has a long way to go before it is adopted by small and medium enterprises (SMEs). 
Blockchain: Businesses have been thus far reluctant to place blockchain at the core of the business structure. 
Circular economy: Textile units have started adopting circular economy to transform themselves into sustainable businesses. This will boost solving social and environmental issues that the current linear, fast fashion model has created. (HO)