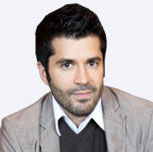 Brent Blum
Wearable Technology Practice Lead
Accenture

'We expect to see wearables become more indistinguishable from everyday glasses and watches'
Company Details
Business Area:
Management consulting, Technology services, and Outsourcing
Turnover:
US$ 30 billion for fiscal 2014
How do you envision the future of wearables in the fashion industry?
The fashion industry is witnessing an emerging interest and need to think about wearables in the context of peoples' lifestyles versus solely on technology features. We have begun to address this largely unmet need through some innovative projects led by Fjord, part of Accenture Interactive, and our Accenture Technology Labs. Whether it's enterprise or consumer application of wearables, we believe broad adoption will not occur until wearables are designed with a fashion-first approach. We envision a future where wearables will become not just fashion accessories such as a smart watch or pair of smart glasses, but also be embedded in apparel, opening up an entire new world of possibilities. This trend has implications not only for the fashion industry, but also for companies who want to communicate with customers through their wearables.

In September 2014, Accenture joined MADE Fashion Week as part of our overall focus on fostering innovative programmes that lead the industry in incorporating technology to transform how people live and work, and how businesses operate and grow. Our partnership with MADE extends our current technology R&D activities in wearables, which have been largely focused on how large companies use technologies such as smart glasses in the enterprise. Along with MADE and other Accenture R&D activities, we will explore new ways of exploring wearable technology from a lifestyle and fashion-driven perspective, while exploiting the latest in emerging technology.

In 2015, with the next generation of Google Glass, and the release of Apple Watch, there's no doubt wearables will continue to take hold. In the enterprise space, we'll see a growing number of wide scale deployments that capitalise on the significant value proposition wearable devices can deliver. In the consumer realm, although hardware cycles are long, we expect to see wearables become more indistinguishable from everyday glasses and watches, further driving adaption as the technology becomes more seamlessly integrated into our everyday lives.
Published on: 12/12/2014
DISCLAIMER: All views and opinions expressed in this column are solely of the interviewee, and they do not reflect in any way the opinion of Fibre2Fashion.com.