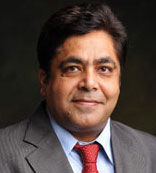 Mr. Arun Grover
MD
Amartex Industries Ltd.

Company Details
Business Area:
Manufacturing, Trading, Retailing of fabrics & garments
Turnover:
INR 500 Crores/ annum
Export Capabilities:
7 MFG units: Fabrics 5 lac meters/month,1.5 lac garments/month & Retail Outlets: 50 across north
Being present into entire value chain from textile manufacturing to garments retailing, which of these sectors you see to be most lucrative, currently in India?
In these complex economic dynamics it is difficult to say whether retail or manufacturing is pertinent in today's times for our economy. Both the term complement each other. In other words it is very difficult to say whether hands are more important or legs. Thus, for us manufacturing to retail is a complete and a related process. This is the only reason Amartex lays equal importance to both manufacturing of garments to retailing of the same, which in turn eliminates the need of the middlemen. Our unique selling proposition is the very fact that there is no middleman and the benefit of which is directly passed on to the consumer.
Manufacturing is still a thriving entity in India. There are so many arenas still unexplored and there are many reasons which influence this like shifting trends, preferences and tastes, seasons, language etc. In regards to retailing, our country has many options to be explored as well and a wide scope to be tapped, but what lacks is the vision to grab the right opportunity.
Today, we have 7 manufacturing units and 500 machines in the current setup and the aim is to increase the number of machines to 2000 by the financial year of 2012. Henceforth it's difficult to define which one of manufacturing or retailing is more important as both needs to be similarly focused and advanced for a balanced growth of the economy.
*******
Published on: 13/12/2011
DISCLAIMER: All views and opinions expressed in this column are solely of the interviewee, and they do not reflect in any way the opinion of Fibre2Fashion.com.