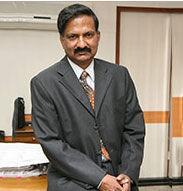 DK Nair
Secretary General
Confederation of Indian Textile Industry (CITI)

Company Details
Business Area:
CITI is an apex industry chamber representing all the sub sectors of the textiles sector through its Member Associations, Associate Members and Corporate members.
How do you see the ongoing changes and developments in the textile and clothing sector in India? Please discuss vital issues and challenges.
The retail market in India for textiles and clothing as a whole has been expanding and is expected to grow even faster in the coming years. The increase in organised retailing has been attracting more of the upwardly mobile segments of the population mainly due to the increasing disposable income in the hands of the large young population.
Anticipating the growth, the industry has made large investment in modernisation and expansion of capacities in recent years and that is now paying dividends to them. However, there are problems in certain segments like the fabrics industry, especially denims and bottom weights. But given the growth in the final products, especially garments, the demand recession in the fabrics sector should be a temporary problem and the segment is likely to bounce back soon.
Our export competitiveness has been improving and our exports have also been increasing, as export data shows. From less than US$ 34 billion in 2012-13, exports of textiles grew to US$ 39 billion in 2013-14. Currently in major markets like the USA, the growth in our exports of textile products is higher than that of China and Bangladesh, which are perceived to be the most successful exporters. However, in the EU, which is a larger market than USA, our export growth is relatively low because of zero duty access provided by them to countries like Bangladesh and Pakistan.
Duty-free imports are a major problem that the industry has started facing and will face increasingly in the coming years. Both for intermediate products and final products, we have allowed duty-free or low duty access to a large number of competing countries which has been giving an unfair advantage to them in our markets. And we are not getting any matching advantages in their markets.
Another major challenge faced by the textile sector in the country is rupee fluctuation. Rupee has been fluctuating in the past, but in recent months it is only strengthening substantially and this is hurting our exports. Textiles and clothing industry uses domestic raw materials and other inputs, with negligible import intensity. Therefore, rupee appreciation affects our export competitiveness in this sector substantially. Any further appreciation of rupee will only make the situation even worse than what it is.
With problems of cost escalation in China and labour relations and compliance issues in Bangladesh, the coming decade is expected to be in India's favor for global supplies of textile products. Our fully integrated and progressively modernising industry has the capacity to convert the emerging opportunities into actual export performance.
- Ilin Mathew
Published on: 23/05/2014
DISCLAIMER: All views and opinions expressed in this column are solely of the interviewee, and they do not reflect in any way the opinion of Fibre2Fashion.com.