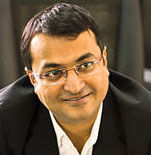 Pinkesh Jain
MD
Everflow Petrofils Ltd

'An innovative technology which India needs desperately is the 'spinning-to-knit' machinery, as it will reduce the cost and production lead time.'
Company Details
Business Area:
Polyester yarn, Spun-blended yarn, Draw-texturised yarn, Fibre yarn, Viscose spun yarn, Partially-oriented yarn, Polyester staple fibre and polyester PET chips and Cotton yarns
Clientele:
North America, Egypt, China, Turkey and Syria
What are the latest technological innovations in the spinning industry? Which are the notable ones coming from your stable?
An innovative technology I have noticed during my visit to Milan which India needs desperately is the 'spinning-to-knit' machinery, a very revolutionary introduction. It will reduce the cost and production lead time.
Vortex spinning, another innovative technology, is widely accepted in Asia and India in the past years. Vortex yarn has a slightly higher cost, but it has two times the production speed of traditional ring spinning. The fabric made by Vortex yarn has a compact look and less hairiness. Hence, we get a very fine product. This product is widely in trend today.
With respect to the notable innovations coming from our stable, since a few years we have been introducing new products in India. Below is a synopsis of our newly-launched fabrics:
Phillcot: It is a fabric produced by the yarn made from Phillcot fibre. It is super rich in softness, and provides a feather-touch feel to the skin. If this fabric is knitted at 32GG, we get a rayon-like feel in the fabric. If knitted at 24GG, we get a cotton-like feel in the fabric. Apparently, if knitted at 28GG, the fabric will be super soft.
Bluzen: It is an eco-friendly, indigo-dyed yarn suitable for knitted denim fabric. This yarn helps in the substantial growth of knitted denim garment. This yarn has a unique property of bleed. The colour-depth is so rich that it holds the colour-effect for maximum washes. This quality is recognised by the high-range denim garment manufacturers all over the world.
Venetian Rayon: It is a fabric produced by the yarn made from Vanetian Rayon fibre, which gives a very fine viscose fabric providing the look and feel of any high-quality rayon or viscose fabrics like highly-appreciated Tencel/Modal. The liquidised structure of this fabric is unparalleled.
Our aim of introducing such fabrics is to have innovative products in the textile market. This will help India to compete with China for polyester and viscose and to compete with Pakistan and Bangladesh for cotton.
Published on: 27/01/2016
DISCLAIMER: All views and opinions expressed in this column are solely of the interviewee, and they do not reflect in any way the opinion of Fibre2Fashion.com.