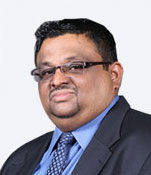 Dastaquir Ismail
Vice President - Business Development
GT Nexus, Asia Pacific

'Money movement automation requires sophisticated infrastructure, security and connectivity'
Company Details
Business Area:
GT Nexus: Cloud supply chain platform
What advice would you give to companies seeking finance? What are the latest technological innovations taking place in financial supply chains?
Building a b2b transaction solution is not a simple undertaking. Money movement automation requires sophisticated infrastructure, security and connectivity.

With the right level of visibility into inventory and parties in the supply chain, financing can be made available at many steps in the product lifecycle. Suppliers face cash flow issues due to the strains placed on them, which come from payment terms extension, capital costs, and pressures to deliver on high volumes of smaller orders. The recommended approach is a bank-neutral one. Instead of being tied to a single bank, seek out networks or communities where several options are available.

The use of cloud technology to empower financial service providers is an under-utilized strategy. In the apparel supply chain, there are numerous parties and steps along the way like raw materials, dyeing, cutting, sewing, shipment, etc. When a technology platform connects all of the parties in one place and offer visibility into the status of each of these steps, there's significant opportunity on the financial side. Capital can be inserted into the chain at different steps along the way. It's a huge opportunity for the finance provider to offer more financing. It can relieve burdens for factories and suppliers along the way to ensure that the production lifecycle flows smoothly.
Published on: 11/11/2014
DISCLAIMER: All views and opinions expressed in this column are solely of the interviewee, and they do not reflect in any way the opinion of Fibre2Fashion.com.