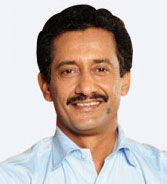 Mr. Sundeep Malhotra
Founder and CEO
HomeShop18

Company Details
Business Area:
On-air retailing
How do you foresee the growth of on-air retailing, especially apparel retailing, in India?
Five years ago when we set up India's first TV home shopping channel it was difficult for us to get good brands onboard. Over these few years, we have seen a change in the perception and acceptability of virtual shopping in the country. Today, best brands are partnering with digital media to reach out to their customers in 3,000 cities.
On-air garment retail is set to become even bigger in the coming years. TV gives the opportunity to see the product and become aware of its unique features. The apparel category is showing high growth trajectory and shoppers are becoming more comfortable with buying it on-air. The garment category has the potential to become the most lucrative alternate distribution platforms, and we have already seen a steep rise in clothing sales in the last two years.
TV as a medium is dynamic and has a wider scope of demonstration of garments visually. A demo of the apparel highlighting its features and fit is the biggest benefit of TV as compared to web retail. The consumer can see and understand the fit of the product which is the most essential aspect in purchasing garments. The anchor on the show explains every detail of the material, fit and styling options that help the viewer make a discerning decision.
However, TV is still a growing and penetrating medium in India. With increased DTH access and digitalization in the country, there will be newer markets that will be tapped over time. One of the main issues faced by the on-air retailers is trust amongst the consumers, and limited penetration of TV within the country is also a hindrance but also an opportunity at the same time. We are hoping that overtime, such issues will be resolved and these markets will have full access to on-air retailing.
With further improvements in the Indian infrastructure and digitalization of television, the penetration of on-air retailing will deepen further. We are very optimistic about the future of on-air retailing as an industry. Brands are already seeing this platform as an alternate distribution network to reach out to millions of consumers across India.
Published on: 13/09/2013
DISCLAIMER: All views and opinions expressed in this column are solely of the interviewee, and they do not reflect in any way the opinion of Fibre2Fashion.com.