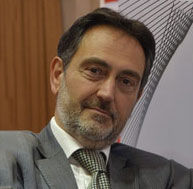 Paolo Briatore
MD
INVISTA India Sales & Services Ltd.

Company Details
Business Area:
Polymers and fibers
Clientele:
Nylon, spandex and polyester applications
How do you find the market for intimate wear in India as compared to the global market? How do you find India as a sourcing destination as compared to its other counterparts?
Considering the context of this young segment in India and its segmentation, I would say that India is on the right track. Of course, it is young, but it has the right potential. Big brands have started moving, especially in intimate wear, to India. They are sure that this is a market that will satisfy businesses in the long run.

International brands are not only chasing India for exports to European countries, but also for establishing stores for intimate apparel. I am well impressed by the growing curiosity of people in India and their willingness to learn about news things. And that is exactly what we wanted in INVISTA!

In this case, we are facing a movement of change. We are looking for best partners to bring in the best supply. India was seen as a good place to find good underwear for cotton and a place to find good fabric for cotton for exports. But with improving lifestyle, India is also seen as a good domestic market. It will take probably more time to establish the right relationship, but India has a fair chance. Here 90 percent of the local market is in cotton.

Now since conditions in China have changed, they have become less competitive. India has much more flexibility in terms of quantity. I am sure Americans are showing more interest than before. If leader brands move into a specific area, than that means that the area is ready for investments. There is an increase in opportunities for business and investment in India. I would say that the country is ready for investments from more such brands.
Published on: 09/09/2014
DISCLAIMER: All views and opinions expressed in this column are solely of the interviewee, and they do not reflect in any way the opinion of Fibre2Fashion.com.