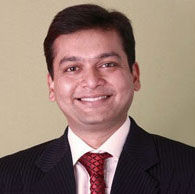 Mr. Ashish Shah
Co-Founder & COO
Pepperfry.com

Company Details
Business Area:
Lifestyle e-commerce
Clientele:
US, UK, Europe, Asia
Please apprise us with the performance of e-commerce platforms in India. How shall be its growth pattern? How is the consumer response to the medium especially for apparel shopping?
In the last decade, middle-class urban Indians had begun using their credit cards for vacations and family weddings; they were getting comfortable with the thought that it was okay to spend a few thousands on the internet. Travel sites and a few popular sites had penetrated the market well by selling standard products and services like tickets, books, media, gadgets and electronics.
While the e-commerce market in India is still at an early stage, in the last couple of years we have also started witnessing an increased adoption of e-commerce even in the lifestyle space. There are now close to 200 million boys/girls born after 1980s (millennial) who would become householders by 2015; they are future confident customers and early adopters of the internet. They are the ones who are now driving the growth of ecommerce in the lifestyle space.
Talking about apparel shopping, as per IAMAI (Internet and Mobile Association of India) report in May 2012, e-tailing sites selling branded apparels registered 5 Million visits in April 2012 as compared to 2.54 Million visits in April 2011. With the onset of 3G and broadband, mobiles users accessing internet through their phones are further going to accelerate these numbers. Online shopping is certainly seeing a drift towards lifestyle categories while technology and travel continue to expand. The role of women online is already a talking point, and will be the key for driving online shopping, as women are increasingly spending time surfing the internet, looking for shopping ideas, comparing prices and playing the role of decision maker for the entire family.
The early adopters have been comfortable with apparel shopping while the young urbane born after the 80s are realizing the benefits; their trial usually starts with a casual branded t-shirt that slowly transitions to a more expensive formal shirt, if the experience is good. Selling a beautiful Saree and ethnic kurti strikes a chord with educated women living in small towns, who perhaps don't have access to such variety, or if they do, it comes with a heavy price tag at their local retail store.
(Contd.)
Published on: 15/06/2012
DISCLAIMER: All views and opinions expressed in this column are solely of the interviewee, and they do not reflect in any way the opinion of Fibre2Fashion.com.