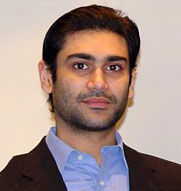 Mr Jehanzeb Amin
CEO
Samin Textiles Ltd

Company Details
Business Area:
Manufacturing Greige fabric for bottom weights, work wear, industrial fabrics & home textile markets.
Turnover:
Annually approx US$ 36 mn.
Export Capabilities:
Annually 24 mn linear meters (70% exports + 30% Domestic)
Clientele:
Germany, Holland, Spain, Portugal, Italy, France, UK, USA, China, Vietnam and Russia.
Your group marks specialization in Fabrics. Kindly apprise us with moves in global fabrics sector, in particularly in abrasives and coatings? What difficulties confront players in this line?
Global fabrics sector:

The international textile industry was adversely affected by the 2009 global financial crisis, and weaving was no exception. 2010 saw a major recovery for the spinning sector in Pakistan, and this prompted international buyers to secure fabric orders as well. As a result Samin also saw very positive developments in fabric sales during the period, with an increase of about 40 %.
Towards the end of November, final users of fabric had incorporated the increase in prices, so we were expecting very positive final two quarters in 2011. The situation was positive till January, but then it started taking a downturn. Cotton started to crash all over the world, and yarn followed closely. Cotton prices fell from 13500/mound to 6000/mound in a period of 5 months. Fabric buyers had sufficient stocks to be cautious in their buying and sales started to plummet.
Finishers are still looking to reduce their purchasing cost and buying has been minimal during the third and fourth quarters. We expect normal purchasing to resume after the summer holidays in September.
Industrial fabrics for abrasives and coating:
This has historically been a high value market and has always supported the weaving industry in tough times. Major clients for these markets were located in Europe and the USA. During the global financial crises the major industries affected were the housing and automobile sectors and as a result demand for these fabrics was completely wiped out. Recovery in this sector has been very slow and cautious, and whereas before the crisis, 15 % of Samin's production was geared towards this market, currently it accounts for less than 2 %. However this market has started to recover and we expect a healthy growth during the coming financial year.
(Contd)

Published on: 13/06/2011
DISCLAIMER: All views and opinions expressed in this column are solely of the interviewee, and they do not reflect in any way the opinion of Fibre2Fashion.com.