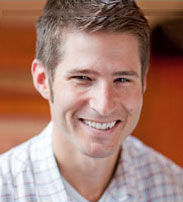 Mr. James Reinhart
CEO & Co-Founder
thredUP.com

Company Details
Business Area:
Resale E-commerce
How big is the global market for re-commerce in apparels, especially kidswear? What are the advantages of re-commerce and how fast do you expect it to grow and why?
Resale is a US$ 13 billion industry and 20 percent of people will shop in thrift stores this year. According to a recent data, the average family that stores kids' clothes for three years has about US$ 2,791 worth of kids' clothing to resell. And, the resale industry is a perfect fit for kids' wear because kids grow so incredibly quickly and it offers a lucrative way for parents to purge their kids' closets and an affordable way to purchase for the next growth spurt is a no-brainer.
Studies show that women only wear 20 percent of their wardrobe and spend more than US$ 1,000 each year buying new clothing, which presents a huge opportunity for re-commerce. Now, women can find value in the remaining 80 percent of the items they no longer wear by used good quality clothing to re-sale retailers and earn cash.
The advantages of re-commerce are endless. It offers the opportunity to find cash in items you own and you can also turn around and purchase "practically new" items at up to 80 percent off new retail prices. Re-commerce allows families to score discounts and sell used clothing on their own time sitting at home. It streamlines the selling process and it also provides a platform to browse thousands of items and hundreds of top brands – all in one place.
The resale and commerce industry will continue to grow, but the future of it is online. The niche apparel "resale" industry is turning into a mainstream consumer option, revitalizing an age-old industry by bringing it online and delivering the financial benefits of second-hand. With a 30 percent month-on-month growth in order sales since 2012, we see how and where the trend is growing steadily.
Published on: 14/05/2013
DISCLAIMER: All views and opinions expressed in this column are solely of the interviewee, and they do not reflect in any way the opinion of Fibre2Fashion.com.