2008 AHEAD Men's Authentics line 'PERFORMANCE'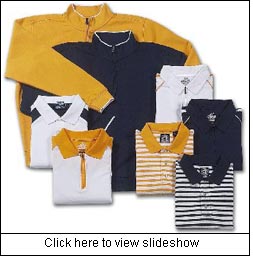 AHEAD continues to build on the extraordinary success of the Men's Authentics with the introduction of the 2008 Spring Collection. The hallmark of AHEAD's Authentic line is its ability to coordinate easily with the golfer's basic wardrobe of khaki, navy and black. Based on the success of the 2007 collection, AHEAD has expanded its successful performance line of polos and outerwear.

"Golfers are looking for apparel that complements their wardrobe, not replaces it," said Jeff Waller, national sales manager, AHEAD. "They're demanding performance benefits from a great quality shirt that comfortably fits the average guy, that is priced right and has fantastic ornamentation. Additionally, they want apparel that is easy to care for. Our current success can be credited to delivering on all these measures."

The foundation of 2008 AHEAD Men's Authentics line is PERFORMANCE. All the garments feature technical performance fabrics to keep golfers cool, dry and most importantly comfortable throughout the round. The line features four types of performance tops.

• CoolMax FX - in combination with CoolMax technology, CoolMax FX delivers breathable garments that combine moisture management construction to keep golfers cool and dry with the added benefit of an odor management system to keep clothes smelling fresher longer.
• Hybridwear - a perfect combination of performance and comfort, the popular AHEAD Hybridwear line combines the feel, comfort and care of cotton with hi-tech fabrics. This hybrid blend combines the benefits of moisture wicking performance with the easy care of cotton.

• Quick Dry Performance Poly - the quick dry 100% polyester performance polos feature moisture wicking attributes to keep the garment dry and cool plus an odor protection finish to keep it fresh.
• Mercerized Performance Polos - the 100% cotton, 60's 2-ply double mercerized polos feature a moisture wicking finish that provides golfers the added benefit of keeping dry and cool while enjoying the classic look and soft feel of mercerized cotton.