Create your customized T-shirt at SonicShack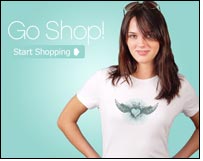 Wearing T-shirts is an American way of life. Many of the T-shirts people wear have the same old logos and souvenir designs. SonicShack.com offers a way to put your own mark on the T- shirt world.

SonicShack.com has just relaunched their website to include a new, cutting edge online designer. This online designer will make it easy for customers to build their own T-shirts just the way they choose. It will also give graphic designers a way to have their works made up and then sell them online.

"Our T-shirt design process is much simpler than the competition's. We wanted to give customers the chance to make T-shirts with as few steps as possible," says John Vincent, owner of SonicShack.com.

SonicShack.com had a website that started in August of 2000. The revamped website offers more choices and simpler designing features.

You just go to SonicShack.com and follow instructions to build your T-shirt from a blank garment to a fully decorated T-shirt.

You can use any of the images from the website's art gallery for your T- shirts, or you can upload your own designs. Add text by choosing the font, color, and size of the printing you want on your T-shirt. It can all be done with a few clicks of the mouse.

SonicShack.com offers not only T-shirts, but also sweat shirts, jerseys, vinyl banners, and even posters. You can make them for yourself or set up a Shack to sell them to others. The Sonic Plug-In allows you to make custom items available for sale on your own website.