TCNS clothing plans to launch new outlets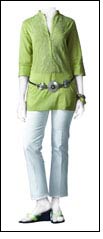 TCNS Clothing Pvt Ltd under the brand name W, has been manufacturing high end fashionable garments for Indian women. To make its presence all the more prominent in the domestic market, the company is planning to launch 100 new stores in different parts of the country within next three years.

TCNS will make an investment of nearly Rs 600 million to open new outlets and increase the size of stores to 1,500 square feet which at present is 1,000 square feet. The clothing company is also planning to take a plunge into jewellery and other fashionable accessories segment to attract more customers.

There are almost 30 retail outlets spread across India which offers exclusive creations for fashion savvy women every season. These high end dresses had limited buyers for a long time. However, now TCNS is planning to bring affordable fashion line to reach masses.