Giambattista Valli as 'Impulse' designer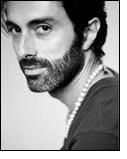 Macy's announced Giambattista Valli as the fourth designer in its collaboration series to create a capsule collection for the retailer's fashion "Impulse" department later this fall. Known for extravagant designs and great party dresses, the collection will be Valli's first foray into affordable fashion. Launching on Oct. 26 with limited-edition women's apparel pieces, the "Giambattista Valli for Impulse Only at Macy's" collection will be sold in approximately 225 Macy's stores nationwide. Valli's unique style and signature craftsmanship is fully reflected in this bold collection that features everything from sequin-encrusted jackets to a soutache dress.

"This capsule reflects my enduring loves, but is really a celebration of my biggest inspiration of all - the energy and vitality of women themselves," said Giambattista Valli. "I love dressing them for all their happiest moments, making them feel as special as possible. This collection is a passport into my world and a chance to experience the passion and romance of my house and Paris itself."

The Giambattista Valli capsule reflects the designer's best-loved hallmarks and flourishes that have made him an international sensation and chosen couturier for the world's most fabulous young women. Featuring gloriously feminine fabrics, bold prints and his famous riotous color, the collection is grounded in red and black with gold, grey and fuchsia infused throughout. The line will feature cocktail dresses, flirty skirts, feminine blouses, lightweight jackets, edgy pants and graphic t-shirts. Key textures like lace, tweed, brocade, faux fur and point d'esprit tulle will capture the designer's celebrated stylistic sensibilities. In addition, the combination of Valli's master tailoring and keen eye for print, color and volume results in a collection that clearly reflects his signature aesthetic. Hinting at the upcoming holiday party season, this capsule offers collectible pieces made for outgoing and fierce fashionistas who are ready to be "Valli Girls."

"It is a tribute to the success of this capsule series for Macy's to partner with Giambattista Valli on his first venture into affordable luxury goods," said Jeff Gennette, Macy's chief merchandising officer. "He is a visionary talent known for extravagant designs, so heading into the holiday season is a perfect moment for his creations in our stores. This collection strikes just the right balance between youthfulness and sophistication, speaking directly to our fashion 'Impulse' customer."

Born and raised in Rome, Giambattista Valli has been influenced by his heritage, the movies of Antonioni and inspired by French fashion through the watercolors of Yves Saint Laurent and the drawings of Gruau. Pursuing his dream, Valli enrolled in the Istituto Europeo del Design in 1986 and then in an illustration class at Central St. Martin's School of Arts in London in 1987. Returning to Italy, he studied under Roberto Capucci and was introduced to the dramatic haute couture clothes and the bursting colors of the Roman master. After a two year period with Capucci, the Fendi family called him to oversee, as Senior Designer, the newly born Fendissime ine. There he experimented with prêt-à-porter in the world of the young, hip Roman clientele. Travelling restlessly between collections, he filled his imagination and mind continuously with the many influences of India's Mina's songs, New York of Halston, Antonio Lopez and Bianca Jagger, Paris with Jeanne Moreau, Fellini's costumes and the women of the café society who would become an important source of inspiration for the times to come.