Designer Anne Fontaine opens Newest Concept Store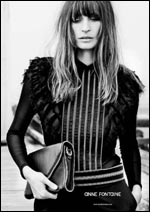 This August, Anne Fontaine will open its doors to its newest concept store at Highland Park Village, Dallas's premier venue for upscale shopping and dining. The 1,307 sq foot store was designed by French architect Gabriel Kowalski and is the first of its kind in the United States. Following the steps of the Cannes store which opened late 2010 the newest concept will unveil an exclusive furniture design concept which highlights the designer's complete collection of ready-to-wear, handbags and accessories. The shop will be the first to carry select pieces from the exclusive collections Precious and Glam available only in the New York, Paris and Cannes flagships.

"In 1993 I opened my first American store in Highland Park Village. It has been a wonderful journey. My Dallas customer's have been there since the beginning and I wanted them to be the first to experience how far we have come," says designer Anne Fontaine. Clients can expect a unique shopping experience while allowing them to share Anne's vision of her brand. "Anne Fontaine has been one of the center's top producing stores for many years," says Stephen Summers, managing director and director of leasing for the center. "We were thrilled to have the availability to accommodate their growth and feel that their new store aligns perfectly with our vision for Highland Park Village."

The new store will welcome clients to a light and serene atmosphere featuring natural and noble materials which dominate the store's design. It will have plenty of distinctive features, creating an exclusive environment boasting warmth and luxury. Fabric covered walls, woven wallpaper, ceramic herringbone flooring, rich wood fixtures with gold accents highlight the stores special products.

The combination of natural materials and textures embody the essence of Anne's love of modernity and nature. "The concept behind the shop is simple: to experience a little bit of the French lifestyle. I want my customer's to feel like have entered a contemporary boudoir where they are pampered and escape from everyday life," says Anne Fontaine. The clients have eagerly awaited the opening of a new location since the closing of the original 700 square foot shop in early July 2011.

The eye-catching new store design will showcase ceiling suspended gold racks and square accessory islands. An open armoire housing Anne's classic white shirts pays tribute to her original beginnings. The journey from past to present continues with paired offerings of cuff links and suggested jewelry, nestled in the center of the display. Glass lit cases and window museum podiums appear to float around the space, spotlighting everything from ready-to-wear, belts, and handbags while contemporary wall alcoves encourage customers to discover the collection. As you walk through the store you realize it represents the brand in its truest form.

"After months of collaboration, a new vision emerged, to better expressthe growth of our lifestyle brand. This engaging new concept, I believe, will be instrumental in the overall evolution of our shops," says Fontaine. The store will host several high profile parties and exclusive events in the first months of this flagship location and throughout the Fall 2011 season.