Lane Bryant + Joe Zee + Qristyl Frazier for full figured fashion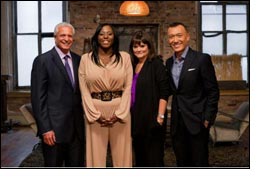 Lane Bryant will be featured in the Friday, December 2nd episode of the critically acclaimed Sundance Channel series, All On The Line With Joe Zee.

In this episode, Lane Bryant Group President Brian Woolf and Senior Vice President of Product Design and Development Debbie Martin will determine whether or not to offer full figured fashion designer Qristyl Frazier a once-in-a-lifetime opportunity to create and sell an exclusive clothing line for the nation's leading women's curvy apparel retailer. Lane Bryant, Sundance Channel and Joe Zee will host an NYC viewing party – open to all customers and media for interview/photo opportunities – on Thursday, December 1st from 6 to 9 p.m. at the Lane Bryant Fulton Street store (380 Fulton St. at the corner of Smith St., Brooklyn, NY 11201).

"We are constantly looking for cutting-edge, vibrant designs to add to the Lane Bryant collection," said Mr. Woolf, who serves as Group President for the Lane Bryant brand of parent company Charming Shoppes, Inc. "All On The Line offers a unique opportunity for gifted designers to be mentored and matched up with leading retailers. Reality shows often focus solely on the artistic side of fashion; but Joe Zee's pragmatic approach to the business, combined with the design aspect, inspired us to be a part of the new season."

Ms. Martin adds, "To date, most of the products in the Lane Bryant merchandise mix features in-house designs, and we'd like to find new designs that offer fresh and creative ideas that will enhance our collection. It's a thrill to team up with Joe Zee to make a positive impact and help cultivate a great talent like Qristyl."

All On The Line With Joe Zee, which The Huffington Post calls a "must-see" show, kicks off its second season on November 25th on Friday at 9:30 p.m./6:30 p.m. ET/PT. The show's host, ELLE Creative Director Joe Zee, who The New York Times deems, "fashion's approachable ambassador," comes to the rescue of designers in need of a makeover on their business, design or both.

The December 2nd hour-long episode will explore Qristyl Frazier Designs; unraveling the intricate stitching of her business, dissecting her staff and breaking down her design, to discover the glitch that has brought her to the brink of losing it all. Joe Zee will recommend how this struggling designer can alter her business so that it fits the Lane Bryant brand just right. As a result of this challenging exploration, he hopes to successfully re-inspire and relaunch her line.

"For this episode, I challenged Qristyl to elevate her clothing's sophistication level for Lane Bryant, as the store offerings are moving toward a more runway-driven, fashionable and chic look," said Joe Zee. "It is quite heartening to know that a retail giant like Lane Bryant has taken an interest in collaborating with someone like Qristyl, who has struggled over the past 18 years and made a ton of sacrifices to fulfill her dream as a fashion designer."