DHL logistics & fashion industry - a perfect fit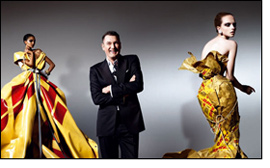 DHL, Official Logistics Partner for Mercedes-Benz Fashion Week, provides perfect-fit solutions for a total of 30 global Fashion Week events across 15 cities. The buzz and pace of a typical Fashion Week - four days, 50 designers, over 40 models, makes logistics support vital. Behind the flashbulbs, wardrobe changes, coloured lights and fabulous music, is a team of backstage heroes dedicated to making the most fashionable days of the year a huge success.

DHL's role in the success story of Fashion Week covers everything from the delivery of priceless haute couture masterpieces to the transportation of equipment to and from catwalk venues. In addition, DHL offers designers and fashion houses the opportunity to use its GoGreen carbon-offset transport services for their collections, reflecting the increasing importance of sustainable practices in the fashion industry. The service is an attractive option for the likes of renowned names such as Vivienne Westwood, who look for green solutions as well as speed and reliability in their transportation provider.

Behind the glitz and glamour is an incredibly demanding schedule
"Supporting Mercedes-Benz Fashion Week Berlin for the fifth consecutive year is a perfect way to demonstrate our capabilities in the complex and demanding nature of the fashion industry," said Tobias Wider, Managing Director Marketing & Strategy, DHL Express Germany. "Expert logistics support ensures that the latest fashion creations are brought to the runway - right on time."

Jarred Clark, Head of Global Production from IMG Fashion, organizers of fashion events, said: "Behind the glitz and glamour of the runway is an incredibly demanding schedule and DHL excels at meeting our requirements for timeliness and cost efficiency. Its worldwide network, knowledge and experience of the fashion industry have proved invaluable during Mercedes-Benz Fashion Week Berlin."

Top German designer Michael Michalsky, who works closely with DHL, launched his highly-anticipated autumn/winter 2012 collection at the Michalsky StyleNite during Mercedes-Benz Fashion Week Berlin. DHL has handled the logistics for Michalsky's fashion label for the past four years, with services ranging from warehousing and handling of consignment stock to the international distribution of the designer's collection to retailers.

"The support I've received from DHL has been absolutely critical," said Michalsky. "It takes a huge amount of hard work and planning to design, create and organize collection launches like this, but DHL has been there every step of the way. Their dedicated fashion specialists are a perfect extension of my backstage team of producers, design assistants, hair stylists and make-up artists."

Alternative vehicles, such as the SmartTruck in use
As well as couture designers such as Michael Michalsky and Vivienne Westwood, DHL's fashion customers include a number of large retail groups with complexdistribution requirements, plus small, independent boutiques requiring a one-off service. Whatever the size and scale of the company, DHL is committed to offering innovative end-to-end solutions to the fashion, textile and garment industry.