Rising fashion leaders to join Imogene + Willie at NFW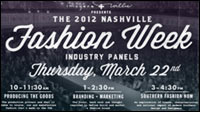 Organizers of Lexus Nashville Fashion Week (NFW) and the Nashville-based fashion company Imogene + Willie are proud to announce the 2012 Nashville Fashion Week Industry Panels, to take place Thursday, March 22, 2012 in the auditorium at the Frist Center for the Visual Arts. Each of the three panels will be 90 minutes and will begin with a moderated discussion followed by an audience-driven Q&A session.

The morning panel, titled "Producing the Goods," will be held from 10-11:30 a.m. The two afternoon panels are "What Makes a Brand?" from 1-2:30 p.m., followed by "Southern Fashion Now" from 3-4:30 p.m.

Panelists and moderators scheduled to appear include local and national designers, fashion executives, journalists, bloggers and TV personalities. Featured participants include Natalie Chanin, Otis James, Barry Wishnow, Rose Apodaca, Susie Crippen, Dana Thomas, Dr. Dave Gilbert, Phillip Nappi, Jamie Frazier, Hannah Jones and Libby Callaway. Additional guests will be announced as they are confirmed.

Carrie Eddmenson, co-owner of Imogene + Willie, as well as an event panelist and moderator recognizes the importance of providing guidance for rising fashion professionals.

"We could not do what we do today at Imogene + Willie without having had great mentors," she says. "We are honored to be a part of the curation of Nashville Fashion Week's industry panels, with the goal of providing local creatives the inspiration and tools needed to make a firm foundation on which they can build their own dreams.

"Hearing seasoned fashion industry professionals share their experiences is paramount to learning how to build and sustain a brand," Eddmenson continues. "This is the best and most direct way to go about invigorating local markets and preparing them to compete in the everchanging global marketplace."

PRODUCING THE GOODS, 10–11:30 a.m.

The production process and what it takes to source, sew and manufacture fashion in the United States. An emphasis will be placed on the importance of and challenges to keeping production in this country.

Panelists: Natalie Chanin, Otis James, Barry Wishnow
Moderator: Carrie Eddmenson, co-owner, Imogene + Willie

OTIS JAMES is a designer and creator of handcrafted clothing and accessories in Nashville. He was recently named winner of Garden & Gun magazine's "Made in the South" awards in the fashion category.

NATALIE "ALABAMA" CHANIN is owner and designer of the American couture line Alabama Chanin, made from 100% Certified Organic Cotton by artisans located near Chanin's home in Florence, Ala. Chanin was a finalist for the Cooper Hewitt National Design Award for Fashion in 2005.

BARRY WISHNOW has led and consulted with a veritable who's-who among fashion brands over several decades. After working in the 1970s with J. Schoeneman, the leading men's clothing manufacturer, he joined Yves Saint Laurent to develop its YSL men's business.