Eva Mendes unveils exclusive line for New York & Company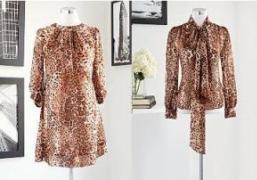 Eva Mendes, the popular American actress and clothing designer, has teamed up with specialty women's fashion retailer 'New York & Company' to launch her new vintage-inspired collection.
The multi-faceted 39-year-old's recently-unveiled line features an array of affordable dresses, skirts, blouses and other accessories.
Based on simple, flattering, feminine silhouettes, the pieces include tunics, dotted shirts, smart denim trousers and floral print skirts with inverted-pleats.
Founded in 1918, New York & Company specializes in fashion-oriented moderately-priced women's formal and casual wear attires.
Fibre2fashion News Desk - India