Denim maker Vicunha supports fashion students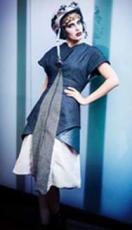 The denim giant VICUNHA supported this year's design students of the famous AMD design school in Düsseldorf. The academy of fashion & design has several schools in Germany and is the biggest and well-known private school for the fashion sector in Germany.
Besides the bachelor degrees fashion design, fashion and design management, conception of room and design and brand communication and design, the school offers the one of a kind degree fashion journalism and media communication. The AMD cooperates with international universities like the Berkeley College New York, the University of South-Wales and the Beijing Normal University in China.
The collections of the students were presented in a big fashion show in the famous theatre "Schauspielhaus" in Düsseldorf. VICUNHA sponsored denim fabrics for the final collections of the design students.
Whether styles like feminine skirts with a soft floating denim or clean structured jackets, many different collections and styles were created and the versatility of denim was shown once again. Popular fabrics like Lars Black, Krawitz and Andorra were used for these collections.
Vicunha