Satya Paul introduces new-age saree line for Mothers Day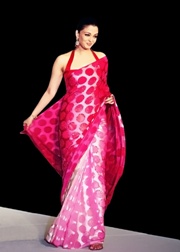 Established at a time when there was little or no awareness about fashion or the idea of designer brands in India, Satya Paul introduced the idea of choreographed collections in 1985.
The brand's take on print innovations did not only change the way the consumer previously looked at Sarees, but also developed a specific niche for concept-based designs.
Women no longer restrict themselves to hereditary Benarasis and chanderis; and Satya Paul has been instrumental in thus bringing about this change with the new-age Saree, which is easy to wear and chic.
Satya Paul