Pantone unveils Spring 2015 Fashion Color Report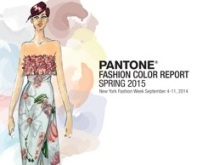 The much referenced and sought after latest Pantone Fashion Color report says of its report; "Color choices follow the same minimalistic, 'en plein air' theme, taking a cue from nature rather than being reinvented or mechanically manipulated."

"Soft, cool hues blend with subtle warm tones to create a soothing escape from the everyday hustle and bustle", Leatrice Eiseman, Executive Director at Pantone Color Institute adds.

Pantone LLC, an X-Rite company and provider of professional color standards for design industries unveiled the Pantone Fashion Color Report Spring 2015, which is a comprehensive overview of designers' use of color in their upcoming collections.

Released to coincide with New York Fashion Week, the report features the top 10 colors for women's and men's fashion for spring 2015, along with designer sketches, quotes and headshots.

The report cites, Aquamarine, Scuba Blue, Lucite Green, Classic Blue, Toasted Almond, Strawberry Ice, Tangerine, Custard, Marsala and Glacier Gray as top colours for women's fashion for Spring 2015.

The top colours for men's fashion for Spring 2015 are; Dusk Blue, Glacier Gray, Treetop, Classic Blue, Toasted Almond, Woodbine, Sandstone, Titanium, Marsala and Lavender Herb.

Informing about the colours selected in women's color palette, Pantone says, "On one end of the women's palette sits Aquamarine, an airy, ethereal blue with a cool, dreamy feel that mixes well with the other blues and greens in the Top 10.

"Evoking thoughts of soothing, tropical waters, Scuba Blue restores our sense of carefree playfulness, while invigorating the body and mind, and Lucite Green, a soft, serene green offers a fresh sense of clarity.

"Pair Lucite Green with bold Classic Blue offers a balanced and refreshed look. As the name implies, Classic Blue is a strong and reliable anchor and, with its waterborne qualities, is perceived as thoughtful and introspective. Bringing balance to the coolness of the spring/summer color range, Toasted Almond, a suntanned neutral, offers timeless, comforting warmth.

"Reminiscent of the sun on our skin in the spring and summer months, Toasted Almond pairs well with both Strawberry Ice, a light, nurturing coral tone, and Tangerine, an energizing, non-jarring take on orange that adds a pop of color for spring. Combine all three for a delicious, almost retro-inspired look.

"Emanating warmth and happiness, Custard serves as an all-encompassing yellow for the spring palette, which can be combined with Classic Blue for a maritime look.

"Much like the fortified wine that gives Marsala its name, this compelling and cordial hue incorporates the satisfying richness of a tastefully fulfilling meal, while it's grounding red-brown roots point to a sophisticated, natural earthiness.