Leo Wittwer jewels add pizzazz to everyday life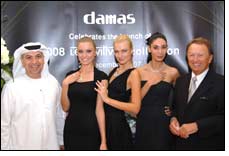 Damas, the leading international jewellery retailer in the Middle East, recently celebrated the design excellence of Leo Wittwer through an exclusive gathering of friends and supporters at the Al Murjan Tea Lounge of Le Royal Meridien Dubai.

Reiner Maier, the chief architect of Leo Wittwer's global success, and wife Anita, welcomed guests to a private preview of the brand's 2008 collection.

Diamonds and coloured stones were transformed into exquisite jewellery that continues to amaze and impress for nearly a century now.

"Leo Wittwer offers an exciting array of beautifully made pendants, earrings, rings and bracelets which are meant to be worn everyday and suit every mood and occasion. These pieces are designed to be used and enjoyed all day and night long, their strength lies in their versatility.

They add a nice touch to any fashion ensemble and complement the style of contemporary women," says Tawhid Abdullah, Managing Director of Damas.

Founded in 1920, the family-run jewellery business based in Pforzheim, Germany has been producing exquisite jewels for nearly a century.

Reiner Maier once represented Leo Wittwer, and bought out the company over 30 years ago. Since then Reiner and son Frank, who literally grew up in the factory, have been making jewellery in their own special way.

Reiner Maier cited, "All the jewellery is manufactured in our firm's production facility in Germany and is backed up by guarantees and certifications.