Jas-07 attained overwhelming support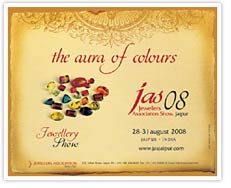 Four day Gems and jewellery Show JAS-07 (17th to 20th August 2007) organized by the Jaipur Jewellers Association ended. In these four daysthousands of visitors from India and abroad witnessed the jewellery showcased under one roof and appreciated the same.

Around 16000 visitors saw the showaccording to the show convener Mr. Nirmal Bardia.

Media Spokesperson for the Show Shri Sanjay Kala informed that on 17th August at 11.00 a.m. the show was inaugurated by the Honourable Chief Minister of Rajasthan Smt. Vasundhara Raje. Shri Narpat Singh Rajvi, Hon'ble Industries Minister, Government of Rajasthan, Shri S.N. Gupta, Chairman of Public Grievance Committee, Shri Mahesh Chand Gupta, President, State Committee BJP, Shri Sanjay Kothari, Chairman, Gem & Jewellery Export Promotion Council were the Guests of Honour.

During his speech the President of the Jewellers Association Shri Vivek Kala requested the Chief Minister for establishment of Gem Bourse in Jaipur.

Smt. Vasundhara Raje in her inaugural speech assured every possible help in the development of gem industry and expressed her good wishes to the members of the organization committee and all jewelers.

She also visited various jewellery booths and appreciated them. On this occasion the Chief Minister also dedicated the `show guide' published by Gem World – A Jewellers Association publication for many years.

The other distinguished guests also congratulated and expressedtheir best wishes for success of the Show. In the end, Convener of the Show Nirmal Bardiya expressed his gratitudes to all the guests. The programme was coordinated by Kishan Das Jhanwar, Hony.Secretary of the Association.