The Bride Show, one-stop-shop event for brides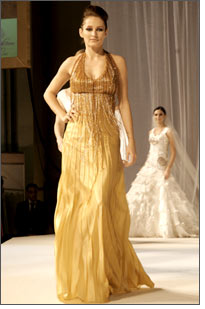 The Bride Show Abu Dhabi will be bigger and better than ever with an exclusive range of local and international exhibitors and a new fashion competition while still covering all the needs for today's bride-to-be.

The show will be officially opened on 5 February by patron Her Highness Sheikha Sheikha Bint Saif, wife of His Highness Sheikh Dr. Sultan Bin Khalifa Bin Zayed Al Nahyan.

The Swarovski Abaya Design Awards, the first of its kind in Abu Dhabi and Al Ain, will come to an exciting closing as all finalists' designs are professionally modeled on Friday, 8 February. Sponsored by Swarovski Middle East and endorsed by Abu Dhabi Ladies Club and the Family Development Foundation, the competition is shedding light on emerging talent in the UAE and their visions of the national dress.

More fashion shows than any other event in Abu Dhabi, models will strut down catwalks every day of the show, making The Bride Show a must attend event for fashionistas.

"This will be a spectacular event, with Abaya, wedding dress and haute couture fashion shows during the four day exhibition" said Daphne Cota, Exhibition Manager of The Bride Show. "It will be a great one-stop-shop event for brides and their families as well as an inspiration for women interested in fashion and beauty."

Exhibitors include haute couture fashion houses such as Amato, Cygnet Fashion, Ghanati Couture and La Donna while models will grace the catwalks in threads designed by second generation designer Mohammed Rahmanian and Contessa, leading fashion houses in the UAE.

Visitors at The Bride Show Abu Dhabi, held at the Abu Dhabi National Exhibition Centre from 5-8 February, will have a chance to see unique items offered by local, regional and international businesses.

European wedding dress suppliers, whose products are available exclusively at The Bride Show, will offer residents a chance to snag the latest European fashions for eveningwear and weddings.