Smaller sunshades to rule this season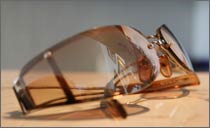 The big-sized sun-glasses are rapidly being replaced by the smaller-style frames which are 'in' for the season.

There's a huge rage among fashionistas about these slimmer and elegant looking sun shades which can be brilliantly complemented by a variety of hats.

These smaller frames are being quickly picked off the shelves while the bigger glasses will have to wait till the next trend creeps in.

Even Paris Hilton has dumped the huge glasses to opt for the catchy trend of this summer season.

However, the smaller sun-glasses may not provide as good a protection as the larger ones but since they are 'in', there's no stopping the trend followers.