AuDITIONS Arabia to draw best design practitioners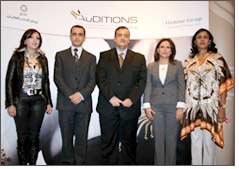 The World Gold Council in partnership with international industry player Hammer Group has launched AuDITIONS Arabia, the only gold jewellery design contest of its kind in the Arab World.

The Contest will be a platform for showcasing new talents in gold jewellery design across the region.

AuDITIONS Arabia is part of AuDITIONS Global platform which is a gold jewellery design competition launched across the globe in South Africa, Brazil, China and India in partnership with AngloGold Ashanti - one of the world's leading gold producers.

The Contest is expected to draw the best design practitioners in the region and is set to inspire talented designers to create designs themselves, therefore making gold appealing & relevant to their lifestyle.

Speaking at the launch of the competition at Park Hyatt Dubai, Moaz Barakat, Managing Director of World Gold Council, commented: "AuDITIONS Arabia aims to enrich design practice in this region by providing aspiring designers with an opportunity to gain fame and recognition for their designs.

We believe in the immense potential of local talent and activities such as this allow the exchange of creative ideas that will be of great benefit to the gold jewellery sector."

"We are truly fortunate that our vision is shared by Hammer Group and AngloGold Ashanti – making it possible for us to launch a project of this scale and provide support and exciting rewards to the most talented jewellery designers in the region.

This Contest will infuse a sense of vibrancy and passion for gold jewellery amongst the target group by making it modern and inspirational and in tune with their lifestyle."

Majid Algouneh, Chief Managing Director of Hammer Group, the largest multinational German jewellery group in the world and Partner in this competition, remarked, "We take pride in being associated with this innovative initiative.

Our organization believes in the distinct character of Arabian jewellery design - be it traditional or contemporary.

This Contest will inject a sense of excitement, intrigue and fascination towards the design of gold products."

As the name implies, AuDITIONS is an audition in gold, with designers being raised to the level of performers who 'audition' through their masterpieces.