Travel Ready Collection for active women on the Go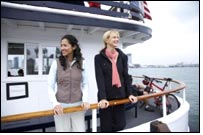 lucy, an everyday performance apparel company focused on inspiring active, on-the-go women, is adding style back into travel. lucy announces the launch of its Travel Ready Collection just in time for Spring adventures.

According to a Kelton Research survey conducted in 2007, more than 70 percent of women demand comfortable, high-performance activewear while traveling. "At lucy, we are dedicated to creating designs that flatter and inspire active women while meeting their demands for everyday performance.

This isn't limited to just home, work and gym; this includes their vacationing time as well. Our innovative Travel Ready Collection is a natural fit into our assortment making it an ideal choice when traveling for business or pleasure," commented Julie Rood, Director of Merchandising.

Coupling survey findings with the trend of more women exercising on vacation, lucy began the involved process of developing a new collection specifically for the active traveler. The collection features the usual lucy design elements, such as their signature fit, style and performance promises as well as the necessities of travel apparel.

"We began with the basics; we knew the collection needed to include wrinkle-resistant and lightweight fabrics that were quick drying. Additionally, small details were worked into the line that all travelers will appreciate, such as grommets and rings for hanging your items to dry after a quick wash in the hotel sink," commented Rood.