Liali Jewellery new line to set the mood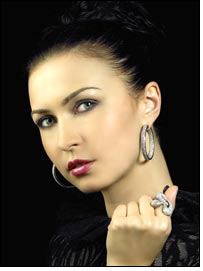 Liali Jewellery, the leading retailer of branded and custom jewellery, is introducing the large almost out of proportion diamond earrings and necklaces which are driven by the retro craze.

Artful layering - the look of the season - is achieved when complementary pendants, not exactly the same, are worn together. Hanging haphazardly, they look just right.

As the look in vogue this season is diamonds, diamonds and more diamonds, the layered look with multiple strands from short to very long, will set the mood.

Add to the layered necklaces a long strand of large beads and you have a very chic look.

Raed Baker, Chairman of Liali Jewellery, said: "Layering lets the wearer create her own unique style, allowing her own inner confidence to radiate.

Dramatic collars, asymmetrical looks, multi-strand drops and V-necks are all styles of necklaces that are letting women boldly express their individuality.

Raed informed the new line also uses many precious stones besides diamonds such as jade which are the new natural caskets for diamonds.

Traditionally, the bohemian 'milange' look abounds in spring fashion with flirty, romantic clothing and chunky, bold jewellery made of earthy materials such as turquoise and textured metals.

From Milan to the Fifth Avenue, the high-contrast look created by magificent designs has caught the fancy of jewellery buyers worldwide.

So look out for those contrast pieces atLiali which will create an elegance to pair perfectly with your evening wears and special nights out!