VAUDE – official outfitter for DAV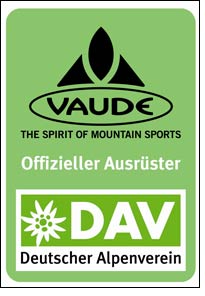 VAUDE has been a complete outfitter of all of the DAV national training teams since September 2007. Starting in 2008 they will be outfitting the DAV's Climbing Cadre as well.

By expanding this long standing partnership, VAUDE will be able to get even more involved in encouraging people to treat the environment with care when engaging in mountain sports and is underpinning its position as a leader in the field.

Back in September 2002, VAUDE and the DAV laid the foundation for a long lasting partnership in mountain sports and environmental protection.

In May 2007, the partner representatives consolidated their effective collaboration by significantly expanding their cooperation in the area of mountain gear sponsoring. As a full-line provider of functional and technical high quality gear, VAUDE is the ideal partner for the DAV," says Thomas Urban, Managing Director of the DAV.

Since September 2007, VAUDE outfits not only the Training Team Mountaineering and Training Team for Nature and Environmental Protection, but also all members of the Training Teams for Sport Climbing, Mountain Biking, Skiing and Family Mountaineering with performance apparel and hardware, making it the official outfitter of the DAV.

Within the DAV, a total of 115 training team members, all certified experts in their respective fields, pass on their knowledge in the training of 7,000 Technical Trainers and approx. 800 Family Group Leaders.

2008 brings the addition of the demands of climbing sports, a topic dear to VAUDE's heart. Together with the brand EDELRID, VAUDE will outfit the Cadres and National Teams of Sport Climbing and Bouldering, as well as the Youth National Team of the DAV with functional clothing and hardware.