Catalin Botezatu femme fatale creations at Couture Fashion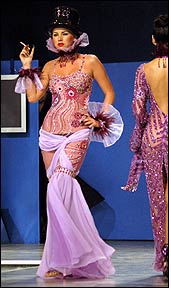 Innovative award-winning fashion designer Catalin Botezatu of Romania will present his latest collection of inspired creations on Saturday February 9, 2008 in the ballroom of the elegant Westin Times Square in New York City. Part of Couture Fashion Week, Mr. Botzatu's show promises to be a spectacular event.

One of Romania's most important designers, Catalin Botezatu has been named "Designer of the Year" six years in a row by VIP Magazine (Romania), and has twice been presented with the "Award for Excellency in Fashion" by Fashion TV Romania, in addition to numerous other fashion awards around the world. His fashion accomplishments have been featured in prominent publications and media around the world including Der Stern, Book Moda, Financial Times, EuroNews, Deutsche Welle, World Fashion TV, and Italian television networks RAI, TG3 and Italia Piu.

A prolific and energetic fashion icon, Mr. Botezatu has done fashion shows all over the world including Rome, Athens, Monte Carlo, Cannes, Moscow, Budapest, Ibiza, Malta, Sun City South Africa and Windock Namibia. He recently showed his designs as part of the Ford Agency's Supermodel of the Year competition in Las Vegas.

Between 1999 and 2000 the designer staged fashion shoots and shows at the Amir Palace in Tunis as well as in Luxor and Cairo, Egypt. In 2002, he did a calendar shoot and three fashion shows in Kusadasi, Turkey. In 2002 he presented his collections at Milan Fashion Week following the Versace fashion show.

In 2004, he presented a highly creative collection inspired by Japan's Samurai warriors at Jimmi'z in Monte Carlo followed by shows at Bali Fashion Week in Indonesia and in Malta. Most recently he has done fashion shows in Tunisia as part of that country's independence day celebrations; at the Cannes International TV Festival; at fashion weeks in Jakarta, Bali, Iceland, Athens, Bucharest and Jamaica; at the ModaLiveMediteraneo fashion festival in Italy; and at the Romanian embassy in Paris. In 2007 he created the "Maserati Collection" inspired by the famous luxury automobile brand.